GREAT in collaboration with the International Rice Research Institute (IRRI) on 11th -16th November, 2019 held  training on gender responsive rice breeding that attracted over 30 plant breeders and social scientists from Sub-Saharan Africa.
Gender-Responsive Researchers Equipped for Agricultural Transformation (GREAT) is a five-year (2015-2020) joint certificate program funded by the Bill and Melinda Gates Foundation implemented jointly by Makerere University and Cornell University, USA.
The training held at Metropole Hotel in Kampala Uganda was sponsored by IRRI.  Participants were drawn from  ten countries including  Uganda, Kenya, Zanzibar, Tanzania, Madagascar, Mozambique, Senegal, Coted'voire, Burundi, Germany and USA.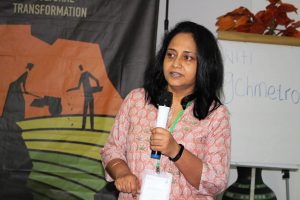 The Team leader IRRI, Nairobi Kenya Dr. Ranjitha Puskur said the objective of the training was to make rice breeding more gender responsive.
"IRRI and National Agricultural Research Systems and all partners in Asia and Africa have program that is trying to make rice breeding to move to a more gender responsive plant breeding program.
In order to do that we needed to influence the mindsets and thinking of those who need the skills that are needed to implement the new way of doing breeding in the multi-disciplinary team.
So, we are bringing breeders and agronomists, economists and social scientists including gender researchers together to make that shift.  
I was looking for help to do that and that is where I came across the GREAT Program and GREAT has had experience training people in this area before and therefore this was the best partner I could get". Dr. Ranjitha explained.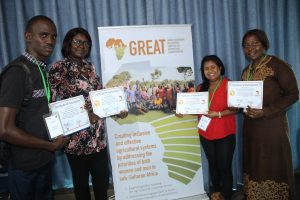 Dr. Ranjitha said the training was the first step to a longer journey with the GREAT program and Makerere University to make sure that the change started gets established and deep rooted in the organizations involved.
"It has been a great week for us and everybody is talking about how transformative the course has been, how it has changed their perception of breeding, learning new things and looking at breeding with a new lens and what it takes to make the new shift. So I am very grateful to GREAT and GREAT team of trainers for making this happen". Dr. Ranjitha stated.
The training, she said had a series of lectures, presentations and practical exercises. The participants were taken through aspects such as the need for demand driven and gender responsive breeding, understanding the gender dimensions and what is relevant to breeding programs, the kind of information and evidence needed.
The participants were also taken through what it takes to do good qualitative research and getting them understand how social sciences could be rigorous and appreciate how to use information that is gender related both qualitative and quantitative to design their breeding program.
"I hope this course will be useful and I hope participants will make use of what they have learnt. Training is one thing, but it is also easy to forget if not put in practice.
The important thing is to  apply it wherever you go. Let's come together because all people that have come here have one common goal. So, form a community of practice to tame this problem". Dr. Ranjitha implored participants.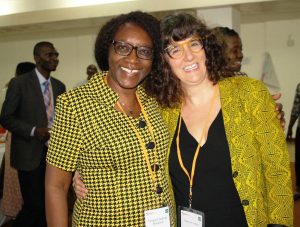 Makerere University's GREAT Principal Investigator Assoc. Prof. Margaret  Mangheni Najjingo said, the course based on gender responsive rice breeding targeted researchers from National Agricultural Research Systems from Africa and Japan.
Dr. Mangheni said IRRI contacted the GREAT project to design for them a customized course adding that since the training materials already existed from the previous course offerings, the course was tailored to meet the needs for rice breeding.
She said, the trainers came from the College of Agricultural and Agricultural Sciences and the School of Women and Gender Studies and partners from Cornell University USA and Dr. Ranjitha – the team leader and a gender expert from Asia.
"We deepen them so that they understand what gender as a concept means, why it is important for rice breeding specifically, but also, for agricultural research in Sub-Saharan Africa. We also train them on gender responsive research cycle and how they can be able to integrate gender in the entire research cycle.
The idea is that the products of the research are able to meet the needs of men and women creating equitable agricultural systems. We also focus on analysis with a lot of qualitative and quantitative gender data analysis and how to package this so that the product informs the rice breeding program."  Dr. Mangheni explained.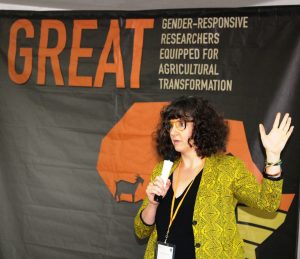 The GREAT Co – PI Cornell University USA, and trainer, Adjunct Professor Hale Tufan said this is a short format course being tried out for the first time.
"It has been very fine. I have always enjoyed the training prospects. So, I am very happy to be part to oversee the course operations.
Here, we are talking about product profiles and what that means to breeding a set of traits that are important to a certain group of people. So, we are trying to understand how you can bring community level information and gender issues into shaping breeding priorities,  programs and  decisions", Dr. Tufan explained.
She underscored the importance of bringing breeders ad social scientists together.  She noted that by bringing people to work together they, understand each other, formulate research questions together rather than doing their own work.
"This is the most important thing we do because it is not every day that these people work together. Even if in the same institution, sometimes you never see each other and if we want to get information from communities and we want the breeders to respond to that, no one side knows everything. So, they have to work together.  So this concept of multi-disciplinarity is really the foundation of what we do as GREAT", She added. Participants hailed the course trainers for the job well-done.
The Director Kenya Agricultural Livestock Research Organization (KALRO) Dr. Ruth Musila underscored the importance of integrating gender in breeding programs.
"What I have learnt is that  there are aspects of gender which need to be included in plant breeding programs and for us to have  successful wide adoption of the new varieties, we need to integrate gender in breeding so that we are able to reach more farmers because they are diverse, and also to be able to produce technologies and products  that meet different needs of different groups in society". Dr.  Musila stated.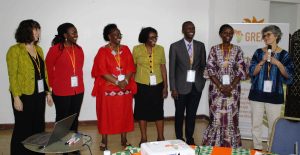 Mr. Arlindo Matsinhe, a plant breeder working with the IIAM International Rice Research Institute in Mozambique said, the take home lessons were many.
"One of the things I have learnt is the difference between sex and gender and this will help me more in conducting my research activities. I will integrate gender   in my research and try to work with other colleagues in different disciplines like breeders, sociologists and economists to gain more from rice breeding." Mr. Arlindo Matsinhe said. An agronomist from Kenya Agricultural Livestock Research Organization (KALRO) Daniel Menge said:
"I have learnt the importance of including gender as part of our methodologies. We have learnt tools and strategies we can apply when collecting data so that products developed can benefit and be applied by both men and women", Mr. Menge noted.
Mr. Zakayo Machunde, a plant breeder working with Tanzania Agricultural Research Organization (TARO) based in Mwanza said;
"I have come to learn that gender issues are important in breeding and that it is not about men and women but for the good of society. Women should be involved in every aspect of breeding to ensure that changes brought in rice breeding benefit all in society", Mr. Machunde said.
Report compiled by;
Jane Anyango
Principal Communication Officer,
College of Agricultural and Environmental Sciences (CAES)
Makerere University