January 14, 2020
Posted by:

Albert Muhumuza

Category:

Uncategorized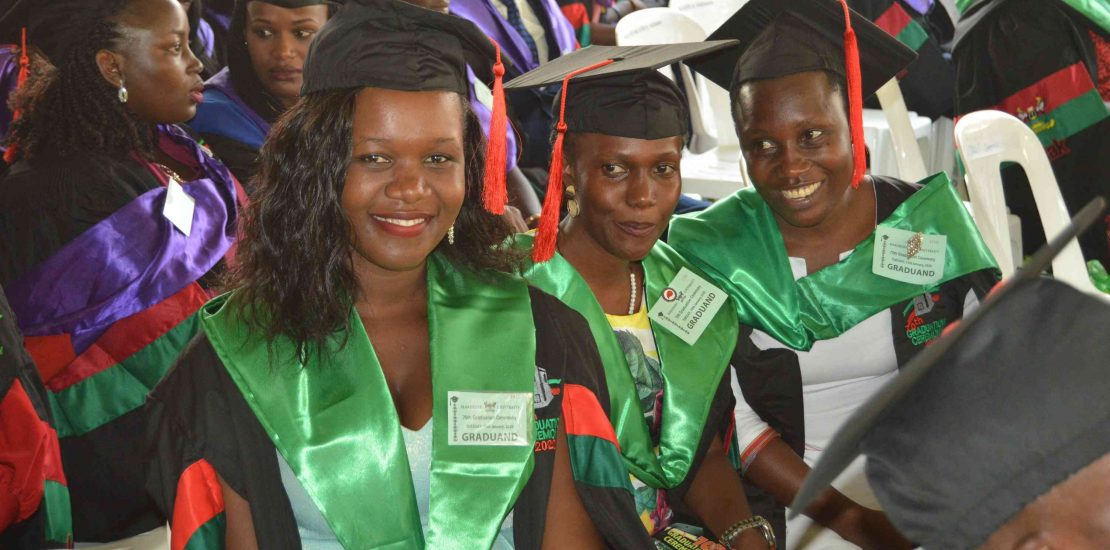 Makerere University 70th Graduation Ceremony kicked off on Tuesday 14th January 2020 with the College of Agricultural and Environmental Sciences (CAES) presenting the highest number of PhD students and the Overall Best Science student.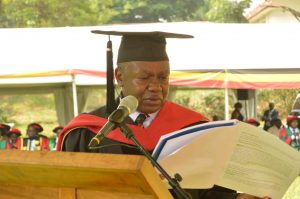 The CAES Principal Prof. Bernard Bashaasha, the Deputy Principal Assoc. Prof. Gorettie Nabanoga and School deans presented 16 PhD students, 81 Masters and 580 Undergraduates for the conferment of degrees and award of Diplomas in different disciplines.
Ms. Namayengo Harriet 22, who has been undertaking a Bachelor of Conservation Forestry and Products Technology was recognized by Convocation Chairman Dr. Tanga Odoi with a plaque and a prize of One Million shillings for emerging Overall Best Science student with CGPA of 4.83.
The graduation ceremony was presided over by Makerere University Chancellor, Prof. Ezra Suruma at the Freedom Square. The ceremony was also graced by the President of the Republic of Uganda represented by the Prime Minister, Hon. Ruhakana Rugunda and the First Lady and Minister of Education and Sports Hon. Janet Kataha Museveni.
Also present were international guests including the delegation from King Abdullah Bin Abdulaziz delegation which  is accompanied  by the Charge de Affairs of the Embassy of  the Kingdom of Saudi Arabia . The delegation was at Makerere to witness the graduation of students of the Arabic Language sponsored by the centre and to commence discussions for the establishment of a centre of Arabic Studies at Makerere University.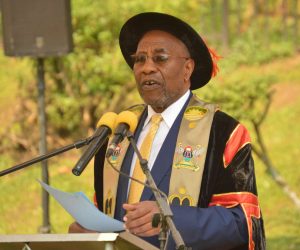 In his speech read for him by Hon. Ruhakana Rugunda, the President congratulated all graduands upon successfully completing their respective courses. He also congratulated the parents, guardians and sponsors upon their children's successful completion and  for the sacrifice made to send grand sons and daughters  to school.
"When I visited Makerere on 25th September 2020, I congratulated and thanked the Vice Chancellor, Staff and Students upon entering an era of renaissance. Just as the renaissance period in Europe resulted in its economic rebirth, I am sure that Makerere is now entering a similar era. In October I had a conference with some of your leaders and I want to reassure that I am committed to getting money for all those innovations", The president appreciated
Hon. Dr. Rugunda reported that in the Presidents New Year's Message for 2020, he outlined that apart from negotiating for markets abroad, government will also help the people to broaden the final products from raw-materials.
He noted that many of the products that the president  saw being exhibited at Makerere's Agricultural Exhibition last year in September were in line with this agenda citing technologies and innovation in Agriculture, leather shoe making and   animal vaccines as among examples.
The Prime Minister reported that the NRM Government's intervention, was slowly moving from a state of underproduction to overproduction in various sectors.
He said the country now has reports of too much sugar (400,000 tonnes versus 300,000 tonnes consumed in Uganda), too much maize (5 million tonnes versus 1 million tones consumed), too much milk (2.5 billion litres versus 800 million litres consumed) which results in reduced prices for our farmers at harvest time.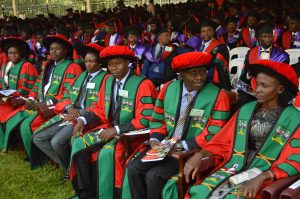 The President however wrote that, this should not be the case going forward because Uganda has raw materials in bigger quantities and shall be able to attract more investors to make other products such as refined sugar, molasses, animal feeds, industrial and pharmaceutical grade starch, ethanol, baby milk and many others.  He added that all these products are in high demand because data from import figures shows that Uganda spend precious foreign exchange importing them.
"I urge researchers at Makerere University to continue supporting the initiatives by Government to re-orient the mindsets of our people in the village. In December 2019, I toured the first ever restored wetland project in Limoto Parish of Putiputi Sub-County, Pallisa District in Eastern Uganda. The people living around that area had gradually destroyed the wetland by growing rice only to earn Shs. 7 million per year.
We therefore used US$4 million out of the US$24 provided by Green Climate Fund and the Government of Uganda to restore Limoto wetlands. We also excavated 5 fishponds of one thousand square meters each at the edge of the swamp, with a capacity of rearing 6,000 fish each. This will enable Limoto residents to fetch between Shs.70 to 80 million per annum while also protecting our precious swamps. The Ministry of Agriculture, Animal Industry and Fisheries will open up similar projects in 24 Districts in the country so as to continue waking up more of our people.
The Prime Minister expressed Government commitment to supporting Makerere and other universities so that they can play the role expected of them in national development.
"We have demonstrated this through availing the Shs. 30 billion to the Research and Innovations Fund at Makerere University. This is only the beginning of better things to come as we work together to transform Uganda and  reorient mindsets of our people from subsistence to commercial thinking". Hon. Rugunda stated.
He  saluted the graduands and their parents upon this achievement saying: "This stage of your Education might have come to an end but the learning process okusoma must continue. It is only by remaining hungry for knowledge that you will effectively utilize the knowledge that you have acquired here to help transform our Country". The Prime minister advised.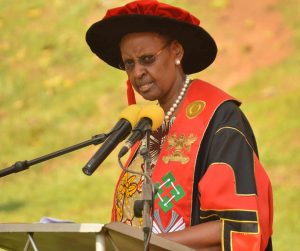 The First lady and Minister of Education and sports Hon. Janet Kataha Museveni Congratulated Makerere University upon  this year's graduation  that has produced more female than male graduands, at 50.5% compared to 49.5%.
The minister congratulated the University Council, Management and Senate for continually ensuring that the deserving girl child is not left out through the Affirmative Action programme. She also   congratulated the University Leadership for taking the decision to double the number of girls supported under the Female Scholarship Foundation effective the next academic year 2020/2021.
Mrs. Museveni said, under the recently ended National Strategy for Girls' Education (NSGE) in Uganda (2015–2019), the Ministry of Education and Sports set out to establish a clear framework for identification, implementation and coordination of interventions designed to achieve promote girls' education. One of the strategic objectives during the aforementioned period was to institutionalize research on Girls' Education  so as to inform policy development, implementation, monitoring and evaluation.
Mrs. Janet Museveni noted that the government's deliberate efforts in line with girls' education were starting to pay off with statistics drawn from the Education and Sports Sector Factsheets revealing  that the number of girls especially in Tertiary Education is steadily growing.
"Makerere University's 70th Graduation Ceremony statistics offer good grounds for discussion of Male to Female rations in tertiary education. Whereas female graduands at Undergraduate level stood at 51.8%, this percentage declined to 40.1% at Masters level and even lower to 27.9% at PhD level.
Whereas we are cognizant of natural responsibilities such as taking care of children and families that accompany females who reach adulthood, I would like to challenge our researchers particularly those in Statistics, Social Sciences as well as Women and Gender Studies to further investigate the issues that lead to this rapid decline", The Minister said.
She said the girl child's participation in Science, Technology, Engineering and Mathematics (STEM) subjects especially at post-primary level remains relatively low. This inevitably reduces the number of girls who pursue careers in STEM-related disciplines.
Mrs. Museveni  commended the Makerere University Council for recognizing this gap and seeking to bridge it by approving the Affirmative Action Policy providing for a 40 percent enrollment quota for female students in STEM. The Minister also commended development partners  who through the Capacity Development for Education Programme (CapED) are supporting the Ugandan Government to develop national guidelines on how to implement gender responsive pedagogies at primary and secondary school levels.
In her concluding remarks the Minister thanked the University community for keeping Makerere University high up in the rankings despite the challenges the University faces. Saying, Government appreciates the efforts and hard work.
To the graduands Mrs. Museveni had this to say: "Always endeavour to be an avenue of peace and love wherever you go and together, we shall make our communities, our nation and the world a better place to live in"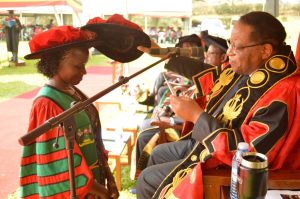 Makerere University Chancellor Prof. Ezra Suruma welcomed the Right Honorable Dr. Ruhakana Rugunda, the Prime Minister of the Republic of Uganda who is an alumnus of this great university. Prof. Suruma also extended a special welcome to the Honourable Minister of Education and Sports, Mrs. Janet Museveni for honoring the invitation to participate in Makerere University's 70th Graduation Ceremony.
"Right Hon. Prime Minister, as the Vice Chancellor indicated, we shall this week confer a total of 13,510 degrees and diplomas of Makerere University. A lot of planning and hard work has gone into the successful preparations for these graduation ceremonies.
I therefore wish to thank the Vice-Chancellor, his Management Team and the Ceremonies Committee for all the arrangements they have made to make it possible for us to be here today.
I also thank the faculty and staff of Makerere University for their immense efforts in teaching, training and research. Thank you for your invaluable contribution to these graduands in particular and to our country as a whole", The Chancellor appreciated.
Prof. Suruma thanked the President, the Prime Minister, the Minister of Education, and the people of Uganda for the enormous investment they continue to make in education and research at Makerere University.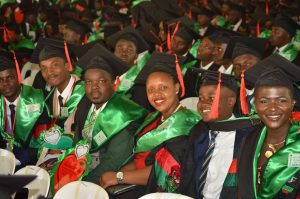 He cited the recent decision by government to contribute Shs. 30 billion to Research and Innovations is an important contribution to the future of Uganda's economic and technological development.  The Chancellor further commended the Vice Chancellor for appointing a Grants Management Committee (GMC) to ensure that these funds are appropriately allocated, utilized and accounted for.
Prof. Suruma extended congratulations and appreciation to the parents, guardians and relatives of the graduands for their sacrifices. The Chancellor  congratulated  all the graduands upon the successful conclusion of their educational programs saying, for each and every one of them, there is a race to be run and there are victories to be won.
Citing the  book entitled The Fellowship of the Suffering by Paul Borthwick and Dave Ripper Prof. Suruma told graduands that there is a sense in which every human being is a participant in the fellowship of suffering.  He explained that every time humans  have something they do not want such as an illness, or when they want something that they do not have, such as a job, they find themselves participating in the fellowship of suffering.
"As I wave you off into graduation today, I have two appeals to make to you:
First, you are not alone, you are part of a society that needs you to reduce the suffering, not to increase it.

Secondly, don't get lost! Pray for a purpose and direction for your life in this difficult world.
As you enter the world of work and of competition and enterprise, I pray for you, that the grace of God will be upon you so that that you may find the right vision and direction and purpose for your life. So that that you will not become hopeless and lost in the complexity and intensity of the world. May you find the grace and the power to focus and to stay focused on righteous objectives, to reach the mountain top and to celebrate the greatest blessings of life", The Chancellor blessed graduands.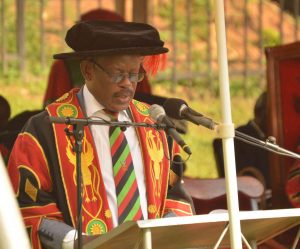 The Vice Chancellor Makerere University, Prof. Barnabas Nawangwe welcomed all to the 70th graduation ceremony, scheduled to run for four days from 14th to 17th January 2020 extending warm congratulations to students upon the various academic efforts that have culminated in their recognition as graduands of the 70th Graduation Ceremony.
The Vice Chancellor apologized to the guardians and all stakeholders on the delayed issuance of graduation gowns which had caused anxiety among graduands. He said management regrets this unfortunate incident and all inconveniences caused and assured them that necessary measures will be taken to ensure the situation does not happen again.
Prof. Nawangwe informed the congregation that all transcripts for graduands have been printed and were ready for collection. He also said every effort is being made to ensure that all graduates of professional courses which require registration for practice will be ready by March this year.
For this 70th graduation ceremony, the Vice Chancellor presented students from the College of Agricultural and Environmental Sciences, the College of Education and External External Studies; the College of Health Sciences and the College of Natural Sciences.
Prof. Nawangwe reported that a total of 13,509 students will be conferred upon degrees and awarded diplomas of Makerere University in various disciplines. Of these, 6820 are female, representing 50.5% and 6689 are males representing 49.5%. A total of 61 graduands 17 of whom are female will receive PhDs, 1173, of whom 471 are female will receive Masters Degrees. A total of 422 will receive first class degrees and will receive certificates of recognition from the Vice Chancellor. The best student from the Sciences and the best from the Humanities at this graduation were both females.
"The College of Agricultural and Environmental Sciences has produced 16 PhDs representing 26% of all PhDs at this 70th Graduation ceremony. I congratulate the college for this exemplary performance. Together the four colleges at todays' session are presenting a total of 35 PhDs representing 50% of all PhDs at this graduation ceremony", The Vice Chancellor remarked.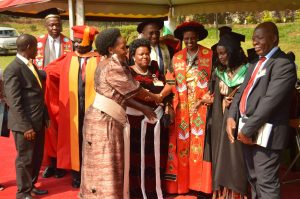 During this 70th Graduation Ceremony, the overall best student in the Sciences (at the undergraduate level) is Ms Sarah Namayengo who scored a First Class Degree-Honours Division with a with a CGPA of 4.83 out of 5 in the Bachelor of Conservation Forestry and Products Technology of Makerere University. Ms Sarah Namayengo from the College of Agricultural and Environmental Sciences is graduating on the first day Tuesday 14th January 2020.
The overall best student in the Humanities (at the undergraduate level) is Ms Rita Namusoke who scored a First Class Degree-Honours Division with a CGPA of 4.92 out of 5 in the Bachelor of International Business of Makerere University. Ms Rita Namusoke from Makerere University Business School will graduate on Thursday 16th January 2020.  
Prof. Nawangwe told the congregation that with support from government, development partners and other stakeholders, Makerere has largely achieved her cherished vision of being the leading institution of Academic excellence and innovations in Africa.
"Makerere is ranked No. 2 on the continent in research output, No.5 on all parameters having risen from rank of 45 ten years ago and is now a leader in many aspects globally. For example, we are ranked No.1 globally in collaborative research." Prof. Nawangwe explained.
The Vice Chancellor also reported that Makerere University has scored tremendous achievements in the area of teaching and learning during the strategic plan period 2006/7-2018/19. The University he said has more than doubled the teaching space and library has more than doubled in physical space with the largest subscription to online journals at any university in Africa.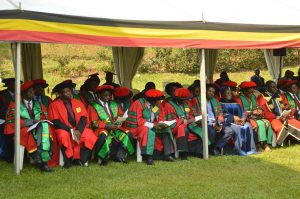 In addition, the Vice Chancellor said the university boasts of the best IT infrastructure in Africa outside South Africa with most teaching facilities and halls of residence enjoying free wifi; and science laboratories renovated and modernized and new ones built.
Highlighting achievements from the different colleges, Prof. Nawangwe applauded the college of Agricultural and environmental Sciences for organizing the Agricultural Day and exhibition that was presided over by H.E the President in September, 2019.
"When H.E the President visited the inaugural Makerere University Agricultural day and exhibition on 25th September, 2019, he was visibly impressed by the innovations displayed by researchers and students.
Innovations in crop improvement by the World Bank Center of Excellence in Crop Improvement (MaRCCI), food science and technology, irrigation and others have enormous potential for transforming agriculture in our country and job creation for our youth. A unique innovation by this college is the safe bangle developed by Agricultural students under the mentorship of Prof. Fred Kabi to help women under threat of sexual assault and physical abuse to seek instant help", The Vice Chancellor commended.
Prof. Nawangwe said Council has approved the successor Strategic Plan (2020-2030) with a theme, "Unlocking the potential of Makerere University as a regional Knowledge Hub" to be guided by a new Vision: To be a Thought Leader of Knowledge Generation for Societal Transformation and Development. The main thrust of this new Vision he said, is to make Makerere a research-led university.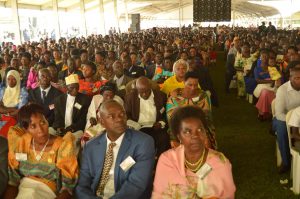 The Vice Chancellor reported that the discipline among students improved tremendously with majority of students now concentrated on their studies and initiating activities to rebrand the university through providing community services such as free medical camps, cleaning markets and roads, constructing houses for the elderly and others. He assured the congregation that the few pockets of hooliganism apparently fueled by forces outside the university will be weeded.
To the students, the Vice Chancellor said, the university had done its best to impart knowledge and skills that they require as a foundation towards achieving their goals.
"I would like to believe that your goal included being a contribution to your families, your communities and to your country. With a degree from one of the best universities in the world, you have no reason not to succeed", said Prof. Nawangwe.
The Vice Chancellor, through the Prime Minister conveyed his gratitude to the President and the entire government for the enormous support the university continues to receive as it strives to raise the flags of Makerere and Uganda.
Report compiled by:
Jane Anyango
Principal Communication Officer CAES.