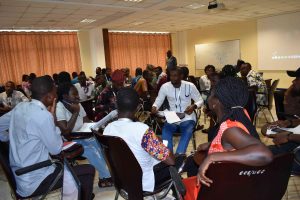 Makerere University Graduate students have participated in the training organized by  the  Regional Universities Forum for Capacity Building in Agriculture (RUFORUM) and University of Cape Coast (UCC)  Ghana.
The training attracted Masters, PhD students and emerging scientists from RUFORUM, a network of 121 universities from 38 African countries. In addition, students from non-RUFORUM universities like Togo, Kenya and   Nigeria on mobility scheme  also took part in  the training.
The five – day training which started on 29th November – 3rd December  2019, is part of the activities to mark the 15th  RUFORUM Annual  General  Meeting (2nd -6th November 2019) hosted by University of Cape Coast under the theme, "Delivering on Africa's Universities Agenda for Agricultural Higher Education Science Technology and Innovation (AHESTI): What  will it be?
The training targeted graduate students about to collect research data and those who had finished collecting data.  In various universities, students undertake courses such as biometrics and introductory statistics before they go to the field and, by the time they go to the field, they would have forgotten the knowledge hence the need for scientific data management course as a recap.
Most of the students undertaking the course on scientific data management are funded by Mastercard Foundation. In addition to students from RUFORUM, students from Makerere University Regional Centre for crop improvement MaRCCI  also attended the training.
Makerere University dons were invited by RUFORUM among the key resource persons to deliver lectures on proposal development, scientific writing and presentation as well as Scientific Data Management and publication.
"The importance of the Scientific Data Management Course is to facilitate students to be able to handle their data especially those at the stage of data analysis so that they can learn what appropriate statistical methods they can use and complete on time.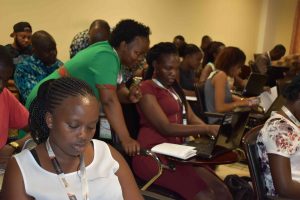 There are students who are at the stage of writing proposals. So during training, not only do we talk about data analysis but also methods and tools used to collect data and relate them to research problems", Associate Professor Susan Balaba Tumwebaze from Makerere University Department of Forestry, Biodiversity and Tourism explained. Dr. Tumwebaza described the idea of bringing students from various universities together as advantageous.
"It is an advantage for students to share knowledge of statistics and research amongst each other and that is why students from different universities and countries have gathered together to share their experiences.
At the same time as facilitators, we make sure that at the end of the course they are confident in data analysis, able to choose the appropriate methods to apply to their data.  We also help them how to present data and results in scientific publications", Dr. Balaba added
During the course she said,  Genestat and SPSS software and other tools  are used. Both qualitative and quantitative methods and mixed methods research methods were handled.
In addition to the normal training of lectures and practical there is a last day called "a clinic day" whereby students become patients and instructors become doctors. Students come with their research problems and are given the medicine. The medicine includes aspects not tackled during the 5 day training and instructors help them on a one-to- one basis.  Clinics are also helpful to students who do not actively participate during the training but open up during the clinics for help.
Prof. John Steven Tenywa from Makerere University Department of Agricultural Production said, scientific writing is a field that has shortcomings among students because most of the time, writing skills are not provided for by most curricular.
"This forum brings students from different systems and students are able to appreciate that their systems are better or worse and also to make friends.
And the forum like this for us as trainers, gives us a chance to improve our training materials and actualize the writing capacities we have in Africa. Apparently, in Africa, there is an average situation with shortage in capacities in different universities", Prof. Tenywa observed.
In his key message to the students and supervisors, Prof. Tenywa said, the writing skills must be hands on and can only be developed when used adding that without practice, the training dies away.
He said the unfortunate part has been the inability to meet the students' supervisors to influence them and therefore uncertain about what will happen next.
"But as far students are concerned, they are very enthusiastic and seem to have realized the opportunities they did not have hope to get.'' Prof. Tenywa noted.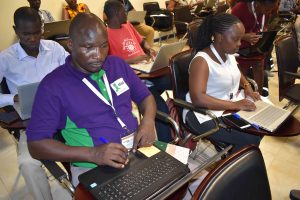 Makerere University PhD student undertaking a program on Plant Breeding and Biotechnology Mr. Odoi Juventine Boaz commended the platform of having diverse student trainees, specialized trainers and being interactive and useful.
"I have learnt about experimental design, data organization, entry and importation from excel to the analysis tool. I have also been guided very well on Genstat and SPSS software and how to analyze and interpret data. I have already collected data and when I go back, the knowledge and skills acquired here will guide me very well.", Odoi said.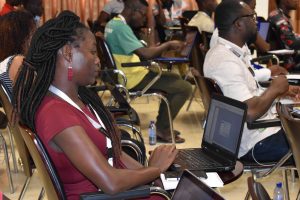 Selma Ndapewa Nghituwamhata, a master's student undertaking training in Plant breeding and Seed Systems said the was useful. "We started from the basics, how to manage and enter data into Genstat, analyzing and interpreting the results. I have learnt a lot of lessons considering that I have my data and my next step is data analysis.
Most of the times I have been wanting to analyze data but did not even know how to interpret my results. This training has helped me and from now on, I will continue writing my thesis and will fasten my process of finishing my Master's degree', she stated
The RUFORUM AGM brought together  over 400 delegates including government ministers, development  partners, 121 Vice Chancellors and Rectors, 150 Principals and Deans, representatives from other  institutions of higher learning including technical and vocational training institutions, post-doctoral scholars, young  innovators, farmers and private sector players.
The 15th AGM will deliberate on how the African Universities' Agenda for Agricultural Higher Education Science Technology and Innovation can be best delivered to realize the transformation of higher agricultural education, agricultural development and in particular transforming Africa's agri-food systems. The deliberations will also focus on flagship programs and requisite regional and international collaborations and partnerships including resourcing that are required to realize the transformative potential of Africa's universities.
Report compiled by;
Jane Anyango,
Principal Communication Officer, CAES