March 13, 2020
Posted by:

Albert Muhumuza

Category:

news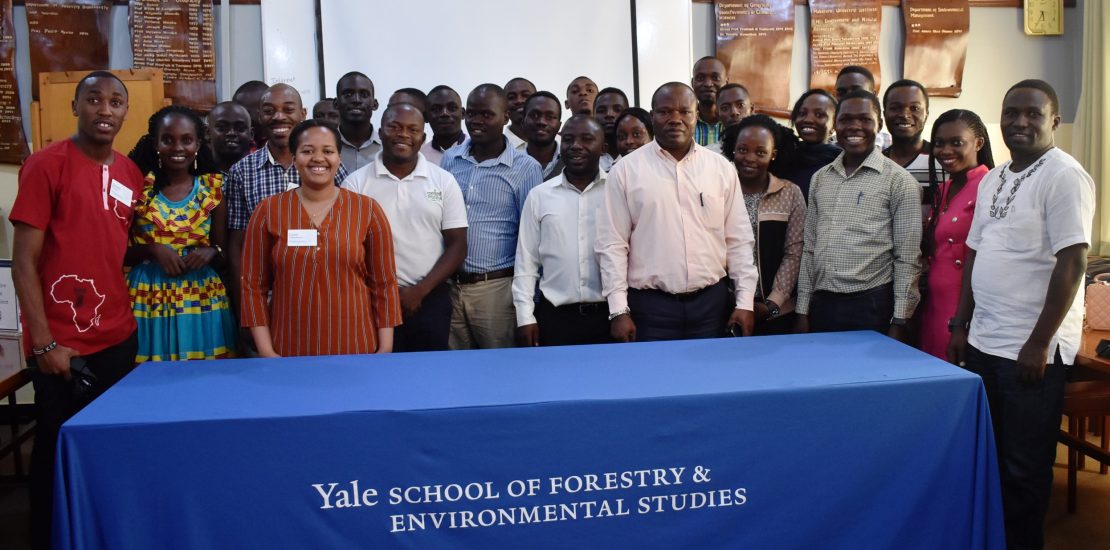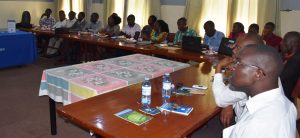 The School of Forestry, Environmental and Geographical Sciences (SFEGs) on 11th March 2020 hosted an information and networking outreach session spearheaded by students from Yale University School of Forestry and Environmental Studies (F&ES) in the US.
Students currently undertaking the Masters of Environmental Management degree program (MEM2020)  were led by Paul Mukiza Hatanga, a former student of BSc. Forestry (2002-2006) at Makerere University. Others were Lysa Uwizeyimana from Rwanda and James Wainaina Ndung'u from Kenya.
The trio met the Makerere University staff and students who recently graduated from the SFEGS in school's conference room where they discussed the available opportunities in different programs offered at Yale University, admission requirements, the application procedure and how to navigate the process of financial aid.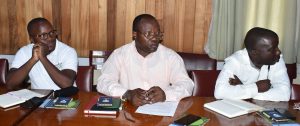 The meeting was presided over by the Dean SFEGS represented by Assoc. Prof. Edward Mwavu who is also Head, Department of Forestry, Biodiversity and Tourism (FBT).
Dr. Mwavu welcomed and thanked the team from Yale university for considering to hold a career guidance at Makerere University and their interest in the enrolment of African students. The students from Yale had been to Nairobi University two days before.
Dr. Mwavu highlighted the history of the formation of the SFEGS having started as a department under the then Faculty of Agriculture to an independent Faculty and the changes the university underwent to a collegiate system.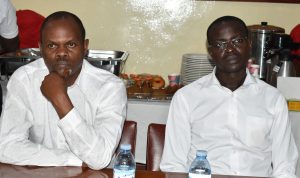 Made of three Departments, Forestry, Biodiversity and Tourism, Geography, Geo-Informatics and Climatic Sciences, and the Department of Environmental Management, Dr. Mwavu told the Yale team that the SFEGS is endowed with adequate human resources and a diverse student body and programs.
"You are in the right place. We have enough manpower and a diverse student body that has been pursuing a number of programs that are in line with your interest and programs.
We are excited that our students can venture elsewhere to widen their perspectives. We have been collaborating with other institutions and holding outreach activities. This is a good gesture for Yale University to be here in Uganda". Dr. Mwavu said.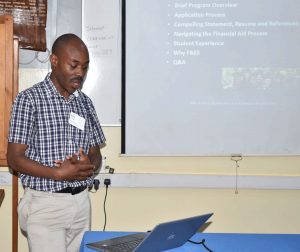 Yale University Student Team Leader Paul Mukiza Hatanga said the visit to Makerere University was organized under the Africa Student Interest Group that encourages African students at the university to push for the students' agenda.
Mr. Mukiza reported that two days before, the team was at University of Nairobi Kenya with a mission of increasing intake of African students at Yale University.
"The Africa Students Interest Group is funded by the Career Guidance Office.  We found it critical to build collaboration with the School of Forestry here at Makerere. There are very few African students at Yale University and that is why we are here to guide on available opportunities". Mukiza said.
Mukiza attributed the low intake of African students at Yale University to weak application letters, fear for finances, inadequate preparedness among students who process for scholarship opportunities and failure to package any type of work and internship as an experience.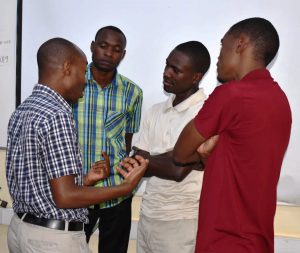 "Internship gives you opportunities to work and practice your skills and count it as experience not just a partial fulfilment to your study program. Be prepared, that is why we are here. You have an advantage, start preparing now", Mukiza advised.
Mr. Mukiza enumerated the 2-Year Master's Degree programs offered at Yale University School of Forestry and Environmental Studies including Master of Environmental Management (MEM), Master of Forestry (MF), Master of Environmental Science (MESc) and Master of Forest Science (MFS).
He also said, 5-year Joint degree programs are available in Yale schools including, Divinity (MDiv or MAR), Architecture (MArch I or II), Law (JD), Global Affairs (MA), International Development Economics (MA). Management (MBA), Public Health (MPH), African Studies; East Asian Studies or European & Russian Studies (MA) and many others such as Tsinghua University Dual Degree, Vermont Law and Pace Law Schools and, the Joint program with Universidad de los Andes (MBA)-Bogota, Colombia
James Wainaina Ndung'u told Makerere Students that besides studying, the Yale School of Forestry and Environmental Studies is a home to 15 centers that helps students connect to industry where they can be employed or team up to do research that looks at the business side of the environment.
"The Career Guidance Office goes beyond the classroom. It is a resource to show how to conduct a workshop, get employment data, internship and research, developing proposals and presentations.
This resource will help define yourself as a brand of who you are. From day one, you closely work with the professors to ensure you are employable, they help you to narrow down and help you transition to post graduate programs", Mr. Wainaina said.
He emphasized that the applicants from all disciplinary areas are eligible for admission, but it is recommended to have the coursework (at the post-secondary level) as a foundation prior to starting a Master's degree at F&ES.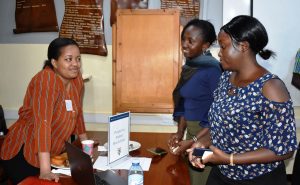 Ms. Lysa Uweyizimana explained the application procedure and requirements for admission to Yale School of Forestry and Environmental Studies involving online application, writing personal statements, short essays and takes, resume/CV, letters of recommendation and having transcripts from all post-secondary institutions attended.
"The statement must have a maximum of 650 words. Show focus, be authentic, be specific and avoid generalizing. Connect the dots between experience and current focus and goals.
Cover background, educational goals, post-degree professional goals, scientific experience, academic interests, proposed research topic, career objectives and why you chose Yale School of Forestry and Environmental Studies.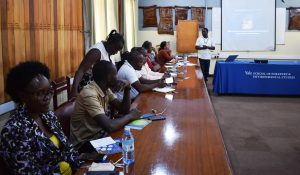 For the resume, include all experience, pre & post-graduation, professional/internship/volunteer. Highlight achievements, leadership, publications, research, etc. and show a demonstrated commitment to the environment /relevant environmental experience", Ms. Uweyizimana advised.
Uweyizimana explained that Yale School of Forestry and Environmental Studies offers scholarships primarily based upon demonstrated need with a few merit research awards annually. The average amount of funding in 2019 according to Uweyizimana was $17,000 awarded for both years of enrollment.
She however said, there are other scholarships outside the school and loans payable at the end of the study program.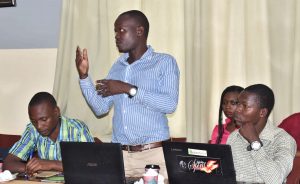 Yale School of Forestry & Environmental Studies has a diverse student body of about 300 masters and 75 doctoral students from more than 35 countries and from across the U.S.
The school provides a combination of need-based, merit and general funding to assists students. The school provides a total support of $6,800,000 for masters' students per year consisting Tuition ($ 5,300,000), Summer internship ($700,000), Student employment ($600,000), Travel and other student activities ($200,000).
The student's presentation is herewith attached for details.
Report Compiled by:
Jane Anyango,
Principal Communication Officer, (CAES)