The School of Forestry, Environmental and Geographical Sciences is headed by Dr. Twinomuhangi Revocatus as Dean. It is located in the western part of Makerere University opposite St. Augustine Community Center. It is one of the three schools in the College of Agricultural and Environmental Sciences of Makerere University. The school was through a merger of the former Faculty of Forestry and Nature Conservation, the Institute of Environmental and Natural Resources and the Department of Geography. It is comprised of three departments, that is; the Department of Forestry, Bio-diversity and Tourism, the Department of Environmental Management and the Department of Geography, Geo-informatics and Climatic Sciences. The School offers both undergraduate and postgraduate programmes in various disciplines. The core function of the school is training of students in areas of Forestry, Biodiversity, Tourism, Environment and Geographical sciences. The other school mandates is research and outreach.
Vision
The School's strategic framework is in response to Makerere University vision; "To be a leading institution of academic excellence and innovations in Africa."
Mission
To advance training, knowledge generation and service delivery in order to enhance sustainable forestry resources and environmental management, and promote geographical sciences.
Core Values
The School is committed to excellence in all its endeavours, and this will feature prominently in its advocacy, partnership and capacity strengthening activities. Achievement of the above vision and mission will be facilitated by the following core values:
Commitment
Honesty and openness
Teamwork and shared responsibility
Ethical conduct and integrity
Excellency
Respect and openness to diversity
Customer responsiveness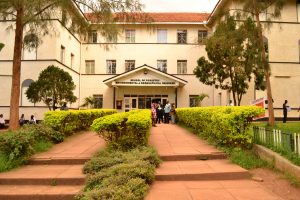 Strategic Goals
Build human capacity that contributes to the socio-economic transformations of local, regional and global communities.
Support multidisciplinary research that responds to the needs of society and enhances graduate training
Strengthen the quality of graduate and undergraduate academic programmes by enhancing practical training and professional staff development to meet the requirements of tomorrow's labour market
Develop partnerships that will enhance opportunities for student training and employment through industrial internships and mentorships
Establish fiscal stability to support training, research, and outreach activities of students and staff