November 23, 2020
Posted by:

Albert Muhumuza

Category:

news
Over 100 participants from academia, business, private sector, research and government ministries and agencies convened physically and virtually to discuss the findings of the  Mak-RIF COVID-19 Special  study on the gendered impact of  COVID 19  on Market vendors of the perishable goods in urban and peri-urban areas of Uganda.
The workshop held on Wednesday 18th November 2020 attracted 40 participants  physically at the Conference Room, School of Forestry, Environmental and Geographical Sciences while over 60 participants  attended via zoom.
The School of Agricultural Sciences (SAS), College of Agricultural and Environmental Sciences (CAES), Makerere University conducted a study on food markets following the distortions caused by COVID-19 pandemic. The study titled "The Gendered Impact of COVID-19 Guidelines on Market Vendors of Perishable goods in Urban and Peri-Urban areas of Uganda" was funded by the Government of Uganda through the Makerere University Research and Innovation Fund (Mak-RIF) COVID-19 Special Grant.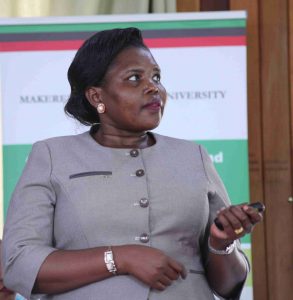 The research team comprised Dr. Losira Nasirumbi Sanya, Principal Investigator (PI) & Lecturer, Department of Extension and Innovation Studies (DEIS); Professor Johnny Mugisha, Co-PI & Dean, School of Agricultural Sciences and; Ms. Florence Nakazi, a Research Analyst, Economic Policy Research Centre (EPRC).
The dissemination workshop was officially opened by the Deputy Principal CAES who is also  a gender expert-Assoc. Prof. Gorettie Nabanoga as Guest Speaker. It was closed by  Makerere University Deputy Vice Chancellor in charge of Academic Affairs (DVC (AA) represented by Assoc. Prof. Eria Hisali, who is also Principal College of Business and Management Sciences (CoBAMS).
The function was also graced by officials from the Ministry of Trade, Industry and Cooperatives led by Dr. Joshua Mutambi Commissioner, in charge of Processing and Marketing; representatives from the National Research Organization (NARO), the Economic Policy Research Centre (EPCR) and  Kampala City Capital Authority (KCCA).
Other invited guests were the Makerere University Director, Directorate of Graduate Research and Training Prof. John Buyinza Mukadasi, the Principal CAES-Professor Bernard Bashaasha. Dr. Hellen N. Nkabala representing the Mak RIF Grants Management Committee also, doubling as Council member, Mrs. Phoebe Lutaya, Deputy Coordinator Mak-RIF and Ms. Carol Kamugira from the Mak-RIF Secretariat. Other special guest were representatives of  market vendors, members from civil society organizations and the private sector.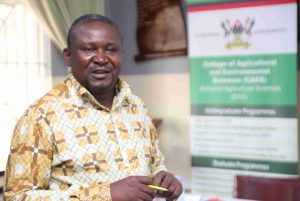 The Head, Department of Extension and Innovation Studies, Prof. Nelson Turyahabwe welcomed the virtual and physical participants describing the project dissemination workshop as timely.
He said, in March 2020 markets and businesses in Uganda were closed and guidelines put in place to ensure that market vendors operate safely. Some of the guidelines included instruction of market vendors to sleep in markets while others commuted and following the Standard Operating Procedures (SOPs). These, the professor said, did not go well with especially vendors trading in vegetables and other perishable goods like vegetables, bananas and tomatoes.
Much as this guidelines were put in place, Prof. Turyahabwe asserted that their impact was not evaluated and thus, when a call for the Special-Mak RIF COVID funding was made, a team of researchers led by Dr. Losira Nasirumbi Sanya in collaboration with other researchers from the School of Agricultural Sciences tendered in the proposal that was granted and funded by the Government of Uganda.
"Today they are here to share with us some of the findings on how the COVID SOPs impacted on the men, women and the youth that are involved in marketing of the vegetables. They are here to share with us the innovations that were out in place and how the guidelines have impacted on their livelihoods." Prof. Turyahabwe said.
He appreciated the participants for honoring the invitation saying, their presence was of great importance given that  they are practitioners , academicians, vendors and policy makers  whose input into the study findings will find possible solutions to challenges of vegetable vending and also inform policy on better strategies in case  a similar pandemic occurs.
The Principal, College of Agricultural and Environmental Sciences (CAES) Prof. Bernard Bashaasha, welcomed participants to the dissemination meeting and thanked them for making time for the function.
Prof. Bashaasha thanked the PI and her team for putting up the study noting that RIF is very competitive but they were able to present a very good proposal that won.
"Team, you make us proud and, in the CAES spirit we congratulate you. Our job is to create an enabling environment and if it can be used to do more good things to the college, then glory goes to God and we thank you and put your work in God's hands". The Principal remarked
The Principal appreciated the Government of Uganda for providing the resources noting that, it is one thing to have an idea, but many good ideas do not take off due to lack of resources to actualize those ideas.
Prof. Bashaasha also commended the team for focusing on areas of marketing and Sustainable Development Goals as very important.
"The focus on market vendors is very key because these are hundreds of women and men out there who risk their lives to ensure that you, and I get the vegetables needed at home. So, I am looking forward to the strategies and recommendations you have come up with that can make their lives better because much as they are looking at their survival, if they are not there, we cannot get the vegetables that are vital in the COVID era to boost immunity." Prof. Bashaasha said.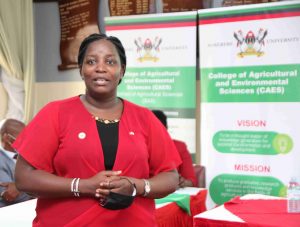 The representative of the RIF Grants Management Committee (GMC) Dr. Hellen N. Nkabala expressed excitement over the project and congratulated the PI and her  team saying, this  project is one of the 500 projects that RIF  is supporting .
Dr. Nkabala said, this Special Mak- RIF COVID  project  is one that came in at a short time that was acquired through a very competitive process.
"What is even  more exciting is that Dr. Nasirumbi and colleagues are really addressing an issue that is not only agriculturalist per se but, an issue that touches humanity to the core and, an ssue that has to do with someone's wellbeing, all the dependents and what happened when COVID 19 stuck.
It is also very exciting to know that the team has come out with strategies to address such issues incase such a situation arises. We know that COVID is not about to go but from what we are reading, we see that things are worsening. So to have such a study that is giving us what exactly should be done under such a situation is to the excitement of RIF", Dr. Nkabala explained.
Dr. Nkabala thanked the Government of Uganda for entrusting the university with funds for research. She extended her appreciation to the Principal and Deputy Principal CAES for posting many applications for Mak-RIF calls.
"And indeed this room testifies why. I have been to many disseminations but in this room, we have the whole leadership of the college which is a clear sign that you have research at heart. We would like to thank you and request that you continue supporting the research as the only way government will take us through", She implored.
She thanked the PI and her team for ensuring that they reach out to all including the ECPRC and the media on grounds that they are the arms that will take the university research further.
On behalf of the GMC and the Chair Mak-RIF, Dr. Nkabala pledged continued support saying, it was clearly decided that such studies are at the core. She acknowledged the support provided by the Mak-RIF secretariat especially supporting researchers calling upon staff to reach out to them whenever need arises.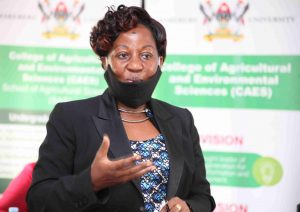 While officially opening the meeting, the Guest speaker Assoc. Prof. Gorettie Nabanoga who is also Deputy Principal CAES and a gender expert said, the assembly was there again to witness yet another success in the CAES looking at the gender effect on vendors in the market.
Dr. Nabanoga said, what struck her most from this study was the relationship of the men and women with respect to their roles and responsibility in market vending. She congratulated the research team for doing a tremendous job in trying to highlight issues  that rarely attract people's attention in vending in the market.
"I am happy that you choose those commodities that affect us because under COVID 19 environment each of us has been advised to improve their immunity, eat better, have a balanced diet and for that reason we need especially vegetables.
And when you look at vending of vegetables, it is mainly by the women but what roles do  women do in these activities beyond the stalls?  It is the men who go to the deep villages, bring the vegetables on trucks and women never participate in that. So I wanted to see this study highlight some of those intricacies, for instance if there is a curfew limiting movement, who is affected most?"
The Guest speaker added that It means the trucks were allowed to move but the women's mobility was very limited so, in effect given the roles of men and women, the provisional roles to their families meant that it is not only the woman who is going to suffer but  the entire household. This brings in the question that we need to pause as researchers." She poised.
Dr. Nabanoga challenged participants to think of what must be done to improve these processes to help those who were involved in case another similar pandemic strikes.
"I appreciate and welcome what the team has brought to light. The different activities that men and women do in the  market and what causes those aspects. The study is perfect in highlighting what the challenges were.
The study is the stepping stone to the next level because, now  we know how vendors were affected ,what the outcomes could be and we can take it  to next level to find out what is it that we can do  differently". Dr Nabanoga commended.
She observed that a number of innovations are known because everyone has  lived the COVID  space, experienced it as buyers or sellers, ordered things online,  sent  motorcyclists, seen markets cropping up in  communities.
Dr. Nabonoga said this study brings out those key aspects that need to be thought of  in relation to policy.
"I implore the policy makers present here  to take issues arising from the study for instance, issues of infrastructure in the market places and how they can be improved to facilitate the performance of women and men participating, the issue of improving shelf life and  value addition. As researchers we need to think of how to tap into solar energy into the activities" she said.
On policy issues, Dr. Nabanoga expressed the need to listen to those that are living the experiences to come up with solutions that are tailored to end users for instance the issues of insurance and loans, organizing vendors first and foremost as pertinent. She recommended that women form  SACCOs to be able to be supported by loans or insurance taking into account the social inequalities.
Nabanoga congratulated the research team for the job well-done and thanked government for having found it wise to offer money to higher institutions of learning to do research that informs policy adding that  without evidenced research information, policy development becomes  a challenge , the reason  why Makerere is at the forefront of these research.
She also thanked Mak-RIF team for doing a great job noting that it is through their activities that researchers have been able to select such teams that are competent to deliver on the mandate of the university which means government money is not going to waste.
Sharing the study context and motivation of the study, the Project Co-PI, Prof. Jonny Mugisha said, in most urban areas of Uganda, a food market is characterized by exchange of assorted foods, dominance of women sellers, crowding of buyers and suppliers of food products, and a lot of price bargaining between the buyer and seller. In addition he said some formal and informal contracts do exist; and to a greater extent the markets operate freely.
Prof. Mugisha reported that during the COVID 19 pandemic, the President and the Ministry of Health noted that markets in the urban and peri-urban areas were too congested and to mitigate the spread of the pandemic, government set up some Standard Operating Procedures (SOPs).
The co-PI explained that one of the measures of managing the spread of COVID-19 was the lock down that restricted movements of people and vehicles – the key players in any commodity market.
Although the markets for food commodities were not closed, Prof. Mugisha said, the markets were required to follow the guidelines and SOPs issued by Ministry of Health including; Reducing the number of traders in the market to ensure social distance (a four-meter distance), Hand washing with soap, Vendors residing in the market places or close business.
He said the immediate effect included closure of businesses; some food markets were closed and a few allowed to operate following SOPs.
The professor noted that implementation of the SOPs resulted into market failure or incomplete markets; Fewer sellers – significant reduction in food supply when in fact the actual supply from the source/farm never changed significantly.
Fewer buyers according to the-CoPI reduced demand when in fact the actual demand for food by households increased.
Mugisha told participants that in addition  to  imperfect information and lack of appropriate information among the buyers and sellers, there were high transaction costs e.g. venders spending nights in the market place; buyers walking to and from markets and limited buyer-seller contacts to negotiate.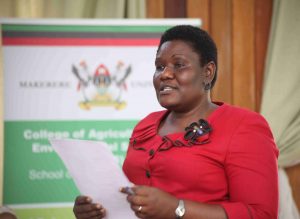 "This market failure had severe consequences on the vendors whose livelihood was entirely derived from small-scale food vending. There was loss of gainful employment, loss in revenue due to a mismatch of demand and supply and physical losses of the highly perishable foods.
We suspected that the consequences were not as severe among male venders as female vendors, but had limited evidence.
We also lacked knowledge on how the food vendors were surviving in these unprecedented times of COVID. We lacked an empirical basis to give advice on strategies that can cushion the vendors in case a similar shock strikes again, and to enhance the resilience of our food market systems", The Professor said.
The Overall Objective of the study according to Prof. Mugisha was to generate evidence on the impact of COVID-19 on the livelihoods of the market vendors especially vendors of perishable goods. The specific objectives were to determine the extent or magnitude of market distortions in terms of; supply, demanded, prices, physical and economic losses, and cost of responding to the guidelines and the implications on sales and profits and general market performance.
The second objective was to quantify short term impacts of the above on the market vendors' welfare, including those who have lost the jobs and third was to propose potential alternatives and strategies on how market vendors can withstand future similar market shocks.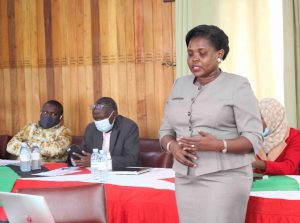 The Principal Investigator (PI), Dr. Losira Nasirumbi Sanya said the study employed a mix research design covering the Central region of Uganda with focus on the Central Business District (CBD) of  Kampala and its rounding Wakiso,  Mukono and Mpigi.
She said,the study mainly targeted female and male vendors trading in selected perishable goods namely bananas, tomatoes and leafy vegetables in selected markets of   Kalerwe, Kasubi, Nakawa Matugga, Bombo ,Mpigi Mukono, Gayaza and Kawempe.
The commodity choice according to Dr. Nasirumbi was informed by the supply areas and main staple for bananas, major spice for tomatoes and nutritional aspect of leaf vegetables. A total of 347 (118 banana vendors, 115 for tomato and 114 venders for the leafy vegetables) participated in the study during the period of March and May 2020.
In addition to key informant interviews targeting market leaders to aascertain the changes, their opinion on the guidelines and how they were being implemented, the PI said, in-depth interviews with market vendors were conducted to capture their personal lived experiences as relates to the study variables; as well as  Market survey with vendors using semi-structured questionnaire to quantify the distribution effects of the pandemic. Descriptive and regression analyses were used to analyse data.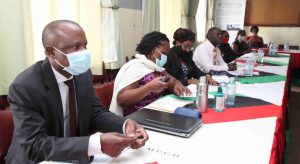 Presenting the key study findings the PI said sample characteristic revealed that Fresh food vending business was dominated by women, who comprised 71.8% of the sample. Dr. Nasirumbi reported that there was a significant change in terms of trading of   perishable commodities during the restrictive COVID -19 period.
Women according to the PI dealt more in multiple (a diversity) commodities compared to men and also dropped more commodities (6.4 on average) compared to men (1.4) but overall, 76% of the vendors reported a reduction in the volumes traded during the COVID-19 period.
"The main reasons for reduction were low demand resulting from reduction in number of customers and COVID -19 restrictions of working and  social distance. Women reported reduction/lack of capital relative to men. Other reasons include increased competition, high supply prices and low supply.
Only 6% reported an increase in volume traded and this was mainly in leafy vegetables attributed to low prices for vegetables and hence their affordability to consumers" Dr. Losira reported.
The study revealed a reduction in the diversity of buyers during COVID-19 having implication on their profit margins. Before COVID-19, there were 84 retail buyers that reduced to 57 during COVID in periurban areas while in urban areas, retailers reduced from 54 to 37. Individual buyers in peri urban increased from 71- 95 while in Urban areas they increased from 74-86.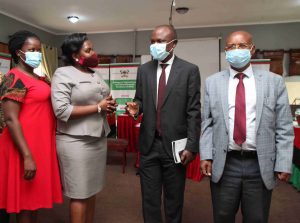 Restaurant buyers reduced from  56 before COVID to 2 during COVID in peri urban areas while buyers from schools, churches, hospitals reduced from 12 and 10  in peri urban. However in the urban areas buyers reduced even to zero  during COVID 19.
The study also found that  the average number of individual consumers per day reduced significantly the during COVID for instance the number of vegetable buyers reduced from 21 to 13 before and during the pandemic, 17 to 8 for tomatoes and from 18 to 8 for bananas.
The study also revealed that women suffered more Physical losses resulting from COVID-19 as compared to men. For instance during COVID-19,men selling bananas recorded physical losses of 7% before COVID and 17% during COVID. On the other hand, women trading in bananas recorded  physical losses of 8% before and 21%during COVID.
Men vending in tomatoes suffered a physical losses of 8% before COVID which reduced to 6% during COVID. On the other hand women vending tomatoes suffered a physical losses of 8% before COVID and 21% during COVID.
Men vending vegetables recorded a loss of 15% before and 18% during COVID, while women recorded a physical losses of 13% and 19% before and after COVID respectively.
Results indicate that within banana for example the supply significantly reduced with a record of 75%  and 32% significant reduction in quantities stocked  and stocking prices. Within the banana still demand significantly reduced with 80%  and 33% significant reduction in quantities sold and prices at which bananas were sold.
Within the tomato commodity the supply significantly reduced with a record of 70% and 43%
significant reduction in quantity stocked and buying price respectively while demand significantly reduced with 75% and 48% significant reduction in volumes sold and selling price respectively.
Within the leafy vegetables, there was a 58% significant reduction in quantities stocked and 7% insignificant increase in buying/stocking price and a 58% significant reduction in quantities and 2% insignificant increase in selling price.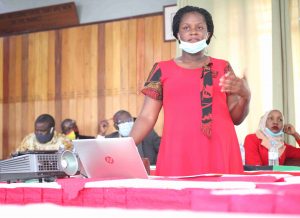 Sharing key results attributed to the short term impacts of COVID 19 on market vendors EPCR Research Analyst Ms. Florence Nakazi highlighted a number of factors that affected the vendors income. Ms. Nakazi also presented study conclusion, Suggested policy recommendations from the vendors' perspective, recommendations for policy and practice as well as key messages to government.
Using  regressional  analysis Ms. Nakazi said the research team was able to determine the  effect of COVID-19 on vendors income per week given that they earn on a daily basis.
For women who have the triple roles when the market is closed and both husband and wife were at home, yet the woman had extra roles to play, and in the event that the women missed to go to the market they would not earn and have food on the table.
As earlier anticipated Nakazi said  COVID -19 has had a significant impact on the vendors income due to the forces of demand and supply because during the issuance of the guidelines, the suppliers were allowed to bring produce in the market but at the same time for the vendors who were supposed to work in the urban market had to commute all the way or sometimes could not make it .
Much as everything was put in the market, buyers had little or no access to the markets, or took long to travel to the market to pick commodities hence the negative impact of COVID-19 on vendors income.
The research analyst reported vendors income was affected by the diversity of buyers because as a result of COVID-19, some buyers could not buy commodities from the market especially schools supermarkets and  churches and as such vendors who had established networks in terms of diversity were able to get better incomes but pity  was with those who did not have and relied on individual consumer.
The other factor that affected vendors income she said,  was the commodities traded in . In the market setting 99 % tried to venture in one commodity. Vendors who tried diversifying in a number of commodities had a negative income during COVID-19 period as they kept  trying different commodities some non – essential amidst restrictions and speculations of lifting the lock down.
She reported that the quantities stocked in the market by vendors further affected vendors income. It was found that vendors stocked as much as they could but again without bias for those commodities hence regstering a negative co-efficient on quantities stocked in the market.
From the descriptive analysis, Ms. Nakazi reported that COVID-19 increased the percentage losses on all the commodities traded in which had a lot of implication on policy and planning and market management whether peri urban or urban kind of market.
To bring out the effect of COVID -19 the research team wanted to bring out what the vendors felt having received those guidelines, whether they were comfortable and  what affected them most in terms of the guidelines.
She said for the urban market vendors, sleeping in the market was the most  important challenge that they went through as they  were not able to commute every day  and chose to sleep in the market with  no shelter.
For the per urban, one of the biggest challenge was walking to the market as opposed to the norm of using motorcycles to come to the market, an event that saw women carrying babies walking to the market. Vendors had to adhere to set guidelines in order to earn a living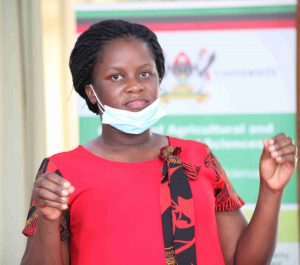 In conclusion Ms. Nakazi shared that COVID-19 led to a mismatch between supply and demand hence a profound shock to markets, their operations and marketing systems.
She said, there were multiple interrelated impacts of the pandemic on the vending business and vendors; supply quantities, sales, diversity of buyers, prices and income.
"Although all vendors experienced the distortions caused by the pandemic, its severity was more among those in the urban relative to the peri-urban markets, and among women compared to men.
Shrinking margins amidst increased business costs negatively impact on the livelihoods of vendors and likely to heighten the care burdens among women who solely depend on the vending business for their livelihood". Ms. Nakazi stressed.
Suggested policy recommendations from the vendors' perspective according to Ms. Nakazi  included   supporting vendors with cash transfers, improving  market shelter, sanitary/hygiene, and  infrastructure  to integrate health first aid facilities. Other proposals from vendors were expansion and establishment of more markets to decongest existing markets, promotion of  value addition, provision of processing, storage and preservation facilities. Improvement on stall spacing, enhancement of knowledge and skills for value addition and linking vendors to markets for perishable goods were also proposed.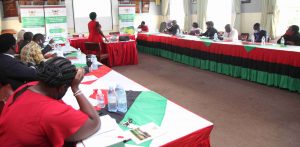 In terms of study recommendations for policy and practice, the research analyst presented three main interventions namely the need to prioritize short-run support for COVID-19 response, investing in long-term recovery and resilience and lastly,  inclusive and effective marketing System.
She explained that COVID-19 Response takes into account the disproportionate impact of measures on men and women; Organize traders per commodity (have a section for every commodity); Improve marketing strategies where traders/sellers get closer to the buyers using various means i.e. ICT and; Establish and nurture relationships with potential buyers.
Nakazi expressed the need for Cash transfers (and access to affordable finances) to support vendors revitalise and boost their businesses and creation of robust, resilient and gender-responsive marketing systems that integrates the needs of men and women.
The others are the need to equip markets by investing in basic market infrastructure and processing/preservation technologies; Streamlining  necessary services provision through supportive government policies  and; Promoting  networks in vending business.
In the Key messages to government the study appealed to Government and other development partners to advance a complete recovery package to support market vendors' essential needs.
Such a package should entail: Support to vendors to transition to e-commerce trading platforms and home delivery applications to retain and increase their customers; Avail soft loans to facilitate uptake of innovative technologies/ bring businesses back to normal in the new socially distant world; Stimulus package to support vendors to offset the inevitable trading conditions. This could amount to a direct subsidy to market vendors and Reduce losses through improved commodities storage facilities and preservation of perishables.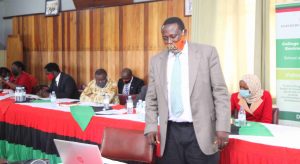 The Commissioner in charge of Processing and Marketing, Ministry of Trade, Industry and Cooperatives (MTIC) Dr. Joshua Mutambi described the research work as important in taking stock of what happened to the entrepreneurs especially  the market vendors.
He said the ministry recognizes the situation as it was noting that during the lockdown most institutions were closed, with limited transport and witnessed closure, shift of markets, reduced volumes of commodities, closure of the main buying institutions, schools restaurants etc that affected negatively on many livelihoods.
"I agree with the recommendations because as policy makers, we are looking at what we can improve. We realize there are issues of hygiene and sanitary, the designs of markets- and we are looking at how they can be redesigned.
We realized that we live on  cash-based transactions and it is important to adapt digital technology so that we can pay on line  through mobile applications to avoid buying at hand.
We saw the innovative ways of delivering produce away from the market.  This means that instead of a buyers coming with vehicles to check and select the commodity at the market, the sellers have to improve on the quality of the commodity sold themselves and add some value". Dr. Mutambi stated.
Dr. Mutambi said, the ministry has issues of some vendors keeping their commodities in water channels. The commissioner agreed with the study recommendations noting that there should be deliberate efforts to establish cold storage facilities.
"There are good lessons picked up from this meeting because we encouraging farmers and vendors to work in clusters and SACCOs where they can pull resources themselves because even if we say, we give them cash transfers at individual level, we shall not realize the impact.
As a ministry we encourage that we need to continue growing the capacity of our vendors across the value chain including transporters.
Thank you for conducting this research, it is helpful to us, we have picked lessons and we shall continue planning how to improve the working environment for business", Dr. Mutambi pledged.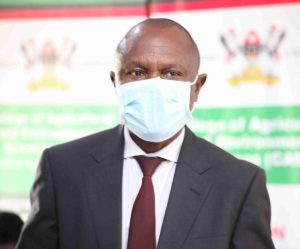 Closing the workshop on behalf of the Deputy Vice Chancellor (Academic Affairs) Makerere University, Associate Professor. Eria Hisali congratulated the study team for delivering this piece of work.
Dr. Hisali told participants that this particular study is quite timely in the face  of COVID -19 Pandemic when a number of commentators from all walks of life, took up the analysis in the  press, social media and discussions, and when everyone overnight became an expert not only on COVID -19 but on the impact that COVID was having  on the  different facets of lives.
"All sorts of things were discussed but we kept on urging that there was something still missing out all through these discussions. The discussions were largely speculative and mostly conceptual but lacked out the quantification of the impact of COVID on the different facets of our lives.
This is a good examples of those studies that have come out to quantify the impact of COVID-19 on one of the facets of our lives. So, thank you for taking up this and hopefully, a number of colleagues out there will be able to learn from this  and refresh their minds on actually what the impacts have been." Dr. Hisali commended.
Dr. Hisali noted that the study highlighted very important take home message. He told participants that   going forward, if faced with circumstances like this of COVID -19, they should go out thinking  of  how  to adjust the issues of innovations in terms of insurance and marketing techniques .
"The second, is the need to take findings from such a study quite serious and be able to follow up with the implementation and operationalization of some of the recommendations. Some of the colleagues representing Market vendors underscored this very important point.
The other important thing is some follow up studies arising from this piece of work  highlighted and how this study can be used as a catalyst and  do more interesting work", The don implored.
The Assoc. Professor said, from the perspective of the University and RIF, the university  has come up with initiatives to ensure  that important pieces of work like this is not lost.
Dr. Hisali said the university has established the intellectual Property Management Office currently housed at CTF 2 and encouraged all researchers and innovators to take off time and visit the office.
He noted that a number of these research and innovations can be taken up and the experts there can work with researchers and innovators to guide how best a number of these can be copy- righted, panteted and followed up.
He  also decried the rate at which Makerere as institution was losing  a lot  in terms of copy rights and patents and  hence, the need  to  take up innovations to another level.
Dr. Hisali  also said, another discussion that management was  currently having which  answers the question on how to follow up Copy right and patenting and the implementation issues was to ensure that researchers  not only  stop at making recommendations but also,  going out to start experimenting with implementation with some of the innovations.

"So our proposal is that going  forward, the grant that we  get from RIF should  possibly be divided into two – the first part should do the work  up to completion or a certain level but  there should be another component  that enables researchers to experiment with some  of the implementation issues even if it is  just  engagement with policy makers, experimenting with a smaller group that is  given soft loans  and insurance cover under a certain framework to add value to what the university is doing." Dr. Hisali disclosed.
In order to increase on the coverage of this particular study, Dr. Hisali encouraged the research team to write policy briefs  and publications. He advised researchers to get ready for other dissemination channels as planned by the university.
"I have had the opportunity to look at the work plan for the university that formed the budget framework paper for the next financial year and one of the things coming out clearly is that all units are going to be encouraged to kick start the working paper series in the year 2021-22 as a priority and this will be good dissemination channels.". Dr. Hisali revealed.
He appreciated the Government of Uganda for this unique financial support saying, the university researchers have done well expressing hope that government will find reasons to keep the fund for a long time.
Report Compiled by;
Jane Anyango,
Principal Communication Officer, CAES