September 5, 2019
Posted by:

Albert Muhumuza

Category:

Uncategorized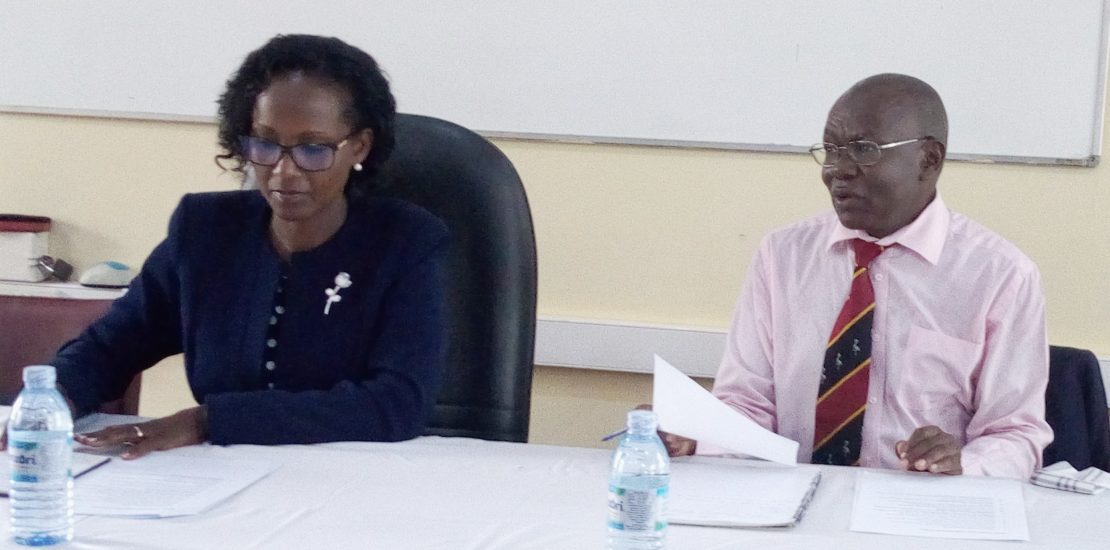 Chair Council Mrs. Lorna Magara and CAES Principal, Prof. Bernard Bashaasha during the meeting
The Chairperson Makerere University Council Mrs. Lorna Magara on 5th September 2019 visited the College of Agricultural and Environmental Sciences (CAES) and held a meeting with the college management including Principals, Deans, Heads of Departments, Centre Directors and heads of administrative units.
This is the second time Mrs. Magara is visiting the CAES following the first one, when she made an impromptu visit during the staff strike that had paralyzed university activities early this year.
Mrs. Magara said, the purpose of the visit was to touch-base with CAES Management and hear from them on key areas where Council can focus on as a policy matter or advice to management.
"I am really honored to come and meet you. Our plan as council when we came in was to interact with staff and hear from them. I believe we have now settled down and we have already set out and visited College of Health Sciences, Humanities, Social Sciences and MISR.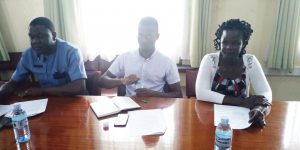 The aim is to hear from you because as council, we cannot sit and take decisions without attaching face to the people, pictures and documents that we read and hear about", she said.
In the two hours meeting held at the Forestry conference room, the Chair Council and CAES Management discussed issues relating to Teaching and Learning, Research, Finances and budgeting, Human resources, the collegiate system and the support environment generally.
The Principal CAES Prof. Bernard Bashaasha presented 15 issues including inadequate funding and late release of funds for academic activities.
''We have also had a perennial problem of lack of a budget for MUARIK. We request council to designate MUARIK a cost to meet road repairs, water bills, building maintenance and others.
There is also land encroachment at MUARIK and this requires improved security", The Principal tabled adding that the institute is need of a generator to support the activities of the Diary value chain that was rehabilitated under AfDB-HEST project.
Prof. Bashaasha reported that the college has inadequate technicians, secretaries and other support staff while staff who have retired upon retirement and those that resigned have not been replaced.
The other issues brought to the attention of the Council Chair were inadequate teaching and instruction materials such as laboratories, computers, transport for students for field practicals, teaching and office space and others.

The prolonged process of program accreditation and review of the curriculum, delays in the procurement process and quality of materials were also discussed.
The inability to implement the collegiate system, non-consideration of time spent on project work, field research, supervision of graduate students, program coordination, administrative work, consultancies and community service in the teaching work load was also discussed as a demotivating factor.
"Despite those challenges the college has done a good job, it is ranked highly in research both in basic and applied research and quality publications.
 It has been graduating the highest number of graduate students. We also have laboratories serving other institutions and with potentially teaching facilities in Kabanyolo that can bring the university to high levels.
We are also doing well in internationalization, we collaborate with various international institutions with over 50 MoU's for staff and student exchange internationally", The Dean School of Agricultural Sciences Prof. Johnny Mugisha submitted.
"We have the FTBIC helping people to start and run agro-based enterprises based on agricultural products supported by the Presidential initiative program which is one of the flagship programs helping graduates and other businessmen to create business through value addition" The Dean School of Food Technology Nutrition and Bio engineering, Dr. Abel Atukwase reported.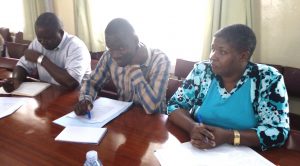 Other renown innovations from CAES included the famous Maksoy bean varieties grown across the country, the Makbio-fertilizer and the Soil testing kit.
Mrs. Magara said Uganda being an agricultural country, the CAES should be central in informing government on policies.
She noted that a lot of projects and research has been undertaken but largely remain unknown.
"You need to set up an institutionalized mechanism devoid of personalities to feed research into policy so that Council can seize opportunities on how to help you move forward", Mrs. Magara said.
The revamping of the Economic Policy Review Center within the college with man power and use of the Department of Extension and Innovation Studies were fronted as potential avenues for engaging and influencing policy makers.
The college was also asked to produce video clips on all the research, technologies and innovations for showcasing at Council to appreciate the college efforts and forge a way of helping engage with policy makers.
In her concluding remarks, Mrs. Magara pledged to address the issues raised with concerned authorities in top management adding that even Council plans to review its performance both at individual and committee level in the second and fourth year of service.
"Council has good will towards the university and we want to make sure that Makerere is the best Centre of Excellence. We want to see and ensure it is felt and we look forward to working together everyone", She concluded.

The Deputy Principal CAES, Dr. Gorettie Nabanoga commended Mrs. Magala for the visit saying, in her 25 years of service, this was the first time to interface with the Chairman Council.
"Thank you for sparing time to come to the CAES. As a college, we have a great role to deliver in this country and we pledge our continued support to Council and management", The Deputy Principal promised.
Report compiled by:
Jane Anyango,
Communication Officer, CAES