October 1, 2019
Posted by:

Albert Muhumuza

Category:

Uncategorized
Over 80 participants turned up for training on Environmental Valuation, Evaluation and Accounting organized by the Environment for Development Initiative (EfD-Mak) Centre.
The training held at the Conference room College of Business and Management Studies (CoBAMS) on 27th September, 2019 attracted the academic staff and researchers from CoBAMS and CAES, members from private sector, civil society organizations, representatives from government ministries and agencies as well as undergraduate and graduate students from CAES, CoBAMS and CoNAS.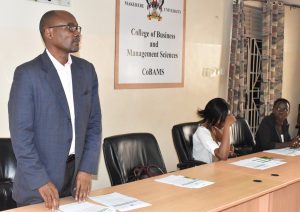 The training was officially opened by the Principal CoBAMS Dr. Bruno Yawe who welcomed the participants and hailed the CAES–CoBAMS partnership saying, a lot is expected including joint teaching for PhD in economics.
"I welcome you to Makerere University particularly to the CAES–CoBAMS collaboration, one of the biggest long journey of collaboration. I encourage you to attend with a purpose. Things that starts jokingly turn out big. Put in your hearts, the sky can be the limit", Dr. Yawe said.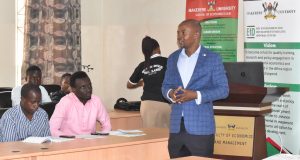 The Director EfD-Mak Centre, Dr. Edward Bbaale said Makerere University recently launched the EfD-Mak Centre in August and in September, 2019 they were set to start undertaking research.  
"But we found it necessary to organize a refresher course to highlight some of the techniques that we need to undertake research in environmental and natural resource economics.
For you to successfully train, there must be research to feed into training but also training creates a critical mass of professionals that are ready to undertake this research. So, this seminar was intended to highlight a few of the environmentally related techniques of analysis that we can use in research", Dr. Bbaale said.
He said the center is set to run a number of research projects starting with an international conference in Columbia in November,2019 where some members who have been part of this training will be presenting.
"EfD works to maintain long term interaction with policy makers. We are organizing a policy dialogue sometime late October, 2019 where we are going to discuss with policy makers a few pertinent issues on policy gaps and advise government on what direction to take as far as protecting and management of natural resources is concerned. As researchers and academics we cannot work without policy makers because they are the consumers of our output", The Centre Director said.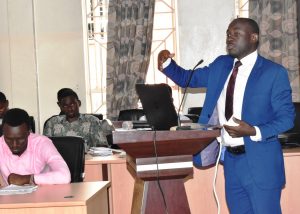 The Lead Instructor Peter Babyenda – an environmental economist at the School of Economics Makerere University said the workshop was majorly on opening the eye to stimulate research on environment.
"We can't do research without data. When thinking together with EfD team, we realized that we need to talk about environmental valuation, evaluation and accounting so that people can be able to see which methods can be used.
This was an introduction where we are giving the general overview of the environmental issues. And then, if you now know that this is the environment, how do you get data on environment. You need the methods to evaluate", Babyenda said.
He said Uganda as a country lacks reliable data on environment and climate that is why farmers are not doing well because they are not well informed because there are no machines for environmental data.
"So through this network we think government can buy these machines but as we are doing that, we still have the data from African Union that we can use. But the concern is to do with whether we have the human resources and capacity to interpret that data to advise the farmers.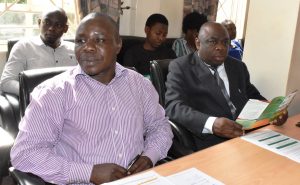 The research on environmental issues is not there due to lack of data that is why we came here to discuss how we can have a middle ground because you cannot live without utilizing the environment but we need to exploit the environment sustainably", the instructor explained.
He said the other aspect looked at was the valuing of the natural resources and the need to evaluate them.
"Should we build a dam on River Nile, should we build a big road through Mabira forest and destroy the ecology there? Those are things we have talked about in the valuation and we have also talked about the lack of experts in the country to evaluate and inform and advise policy and we have said that institutions are not doing well currently including lack of capacity, governance corruption, individualism and poverty of the people", Mr. Peter Babyenda added
The other aspect looked at according to Mr. Babyenda is environmental accounting -how to know the stock of the wealth one has. This, he said involves looking at the GDP and other issues like the number of trees, goats someone has, and value of your account so that when he destroys the environment he would be reducing the value.
He described the seminar as the beginning and expressed hope that Uganda shall have environmentalist who can do valuable and commendable research to inform policy and raise people's awareness why they should value the environment where they stay.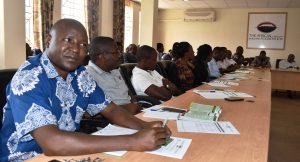 In his key message to the participants Babyenda interested them to the environment, urged them to know that they have a role to play, be responsible and to use the knowledge acquired to conduct research.
"Now that you have the idea and theoretical background and how to get data, the next thing I want you to do is to start getting involved in projects. You don't need to start with focus on the whole country. As students, you can start with you class or village, do a small study and share findings. I want to see you use tweeter accounts to communicate environmental issues, make calls on radios and write newspaper articles on environment, housing in Bwaise and that drainage in the new taxi park etc.", he advised.
Participants speak on the training
Kitagenda Sinan undertaking a Bachelor of Science in conservation biology at the College of Natural sciences appreciated the training.
"This is a good initiative and has broadened my knowledge.  Some of the things highlighted here we have never learnt them in class.  Having a deeper understanding of climate issues, wealth and environmental accounting were really helpful. I hope when we engage with EfD, I shall benefit more. ", Kitagenda said.
Kitagenda is also Deputy Minister Estates and Environment in the 85th Mak student Guild and President of Mak Wild life club.
He explained that they have a project that is running called Mak-Connect aimed at bringing back Makerere to the community to show the contribution towards national development.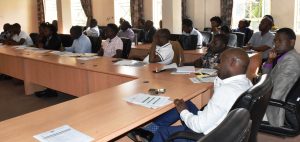 In this campaign, he said, students have developed a project of putting up waste bins across the university main roads with coded colors to stimulate behavior change that will be followed by an awareness drive.
"The other is to have a waste recycling plant at Makerere University. We have also realized  that there is  policy gap on waste management at Makerere university so  it is  a good opportunity to work as the Guild whose mission is in line with EfD", He explained.
Juliet Asiimwe, a Msc. Environment and Natural Resource Management 2nd year student from CAES said the seminar was beneficial and looked forward to other trainings.
"I realized it can be practical if we had such sessions in class and I have realized that everything has to start with me, then, I can change or influence others". Asiimwe reported.
A third year Bachelor of Economics Student Mutte Edgar and student leader at CoBAMS said,
"I have got a lot from it but  I advise that let us engage all students from CAES and CoBAMS  at undergraduate, Graduate and post graduate  levels  so that they can get to know the value of the environment. And if possible the staff should preach this message so that all students get to know about their environments".
Article Compiled by:
Jane Anyango
Communication Officer