The Makerere University Regional Centre for Crop Improvement (MaRCCI) has showcased her research products at the 1st East African Community Science, Technology and Innovations Conference  at the Speke Resort Hotel Munyonyo Kampala Uganda.
The three day conference (23rd-25th October 2019) organized by the East African Council, the East African Development Bank and the Inter University Council for East Africa and others was officially opened by the First Lady and Minister of Education represented by the State Minister for Higher Education, John Chrysostom Muyingo.
The conference attracted participants from East African universities, National Research institutes and the World Bank funded Regional   Centers of Excellence among others.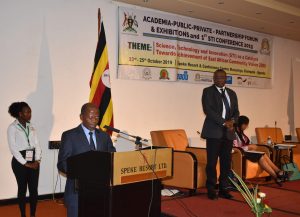 During the opening session,  Minister Muyingo unveiled the plague for the East African Forum for Science, Technology and Innovations.
In his speech the minister called upon educational institutions, business communities, researchers and scientists to create an enabling environment to support  girls and women to embrace science disciplines and technology to realize regional development.
Muyingo said the current systems do not offer opportunities for women and girls to fully participate in Science, technology, research and innovations.
The minister said, under the East African Treaty, governments agreed to transform the citizens   livelihoods through science and technology by the year 2050.
"This is the reason why government has earmarked funds to support science, technology and innovation in educational institutions. We are concerned that girls and women have not fully embraced science and mathematics disciplines", Hon. Minister Muyingo said.
The minister attributed the current unemployment of the youth to taking on courses that do not enable them to create jobs.
"The biggest challenge we have as East Africa Community is the unemployment of our youth coming out of our education system but we have discovered that in East Africa and  Uganda we do not have shortage of jobs.
The only problem we have is lack of the necessary  skills in the world of employment or the education system that has not enabled our children to have the employment skills.
One of the things we are emphasizing and putting much resources is changing the curriculum of the lower secondary and every sector in the education system to impart skills that employers want.
We are also going to retool teachers to be able to impart the required skills to exploit the resources we have in Africa". The Minister pledged.
He said to interest girls in science education, government has put in place a policy that encourages taking science subjects at least to the end of secondary level compulsory and is going to make them more interesting.
 At A-level, the minister said government is to encourage at least one science subject for courses chosen.
He reported that there also incentives like scholarships given for sciences and the loan scheme targeting girls going in for science programs and CESAMMAT program targeting teachers to improve their science skills.
Different participating universities and institutions exhibited research programs, services and products. MaRCCI, MAPRONANO, Infectious Disease Institute, International Office, CEDAT and the School of Public Health participated in the exhibition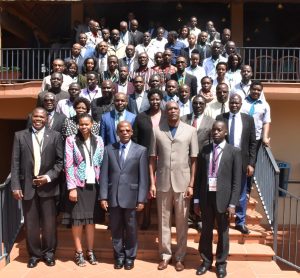 Makerere University Regional Centre for Crop Improvement (MaRCCI) showcased value added products  to traditional Cow pea and Sorghum crops with a nine man team composed of students and staff  pitching camp at the Speke Resort Munyonyo.
Sorghum and cowpea are orphan and food security crops that can be grown throughout the year but with little known about them.
MaRCCI has had enormous interest in these two crops. The centre's research programme has been designed to support cowpea and sorghum as model crops to demonstrate best-breeding practices to both students in the PhD and MSc training programs and scientists in the region. 
The goal of the research is to develop superior varieties of traditional climate –resilient crops and production of high quality breeder and foundation seed.
So far, superior varieties of cowpea and sorghum are in final pre-release testing. Awider range of local and exotic germplasm has been collected for use as raw materials in developing high yielding and nutritious cowpea and sorghum varieties.
New tools have been created to speed up development of desired varieties and youth trained to contribute to the provision of better crops for the nation and the region.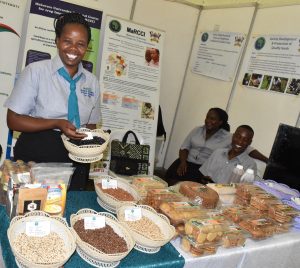 The developed cow pea varieties include the cream coloured drought tolerant variety AL2018_201 with  a yield of 2600 kg /ha and high poding rate.
The other is  the mottled coloured early maturing seed, yielding 2400kg/ha code-named WC_35C, and the cream coloured high yielding (2500kg/ha)variety called Ayiyi which is also resistant to Scab.
Other cowpea varieties developed are the brown seeded AL2018­_078 which is early maturing and highyielding (2600-2650kg/ha also resistant to bacterial blight and the black seededAL2018_16 which is high yielding(2400kg/ha) and resistant to Cercospora Disease.
The centre has also developed five improved varieties of sorghum. They include MaRCCI SORG 1 of 5 tons/ha yield, good for beer and bread and resistant to Sorghum Rust.
The second sorghum variety is MaRCCI SORG 2 that yields 4.5 tons/ha for local brew and bushera also, resistant to bird damage and Sorghum Head Smut.
The third sorghum variety is MaRCCI SORG 3 with a yield of 5tons/ha, good for beer and bread and resistant to Sorghum Downy, mildew and sorghum Rust.
The fourth one is MaRCCI SORG 5 yielding 3.5 tons/ha, good for beer and bread and is resistant to Sorghum Anthracnose and Sorghum Rust.
In addition to breeding, the program is testing potential sorghum hybrids for the commercial beer production and embarked on initiatives to add value to cowpea and sorghum to have better market values.
"The Centre Program Manager Dr. Sarah Akello said the centre is reducing pressure on the preferred cereals like maize, rice etc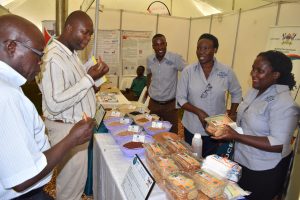 "We are also creating opportunities for neglected traditional crops like cowpea and sorghum.At the same time we are increasing on agricultural productivity to address issues of hunger and increasing income for improved livelihood.
The cowpea and sorghum flour can be used for making porridge commonly known as obusheera which is highly nutritious.We are also combining sorghum and cowpea with other crop products and we have made confectioneries such as cowpea and sorghum snacks, cookies cake, bagia and pancakes, Dr. Sarah Akello explained.
The other benefits accruing from value addition include commercialization of the traditional crops by creating agro industry based on them, substitution for expensive imports of wheat and improved nutritional value.
Report Compiled by:
Jane Anyango
Communication Officer