July 31, 2019
Posted by:

Albert Muhumuza

Category:

Uncategorized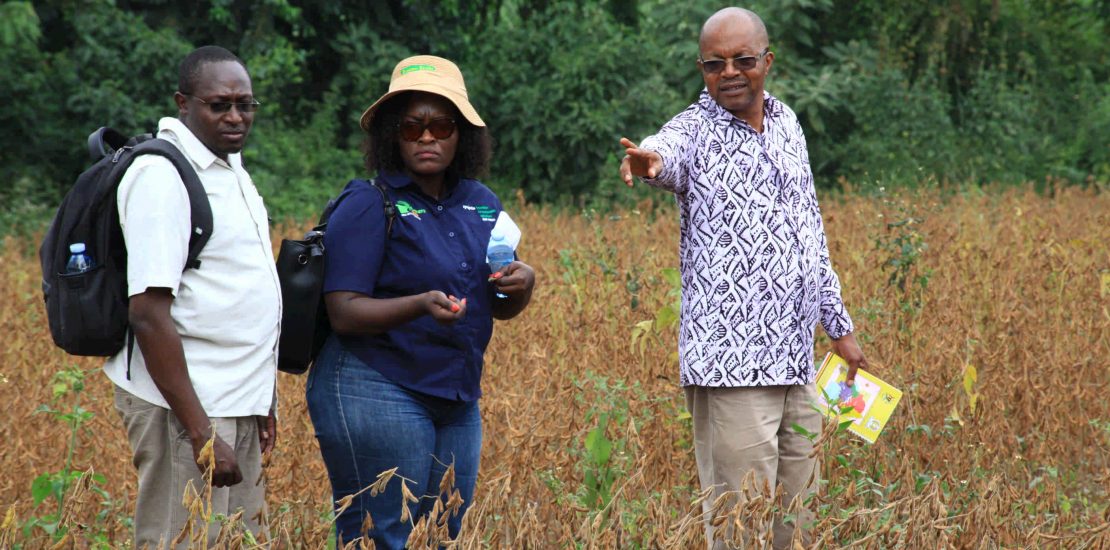 Makerere University Centre for Soybean Improvement and Development in collaboration with Partnership for Seed Technology Transfer in Africa (PASTTA) and Africa Agricultural Technology Foundation(AATF) on 29th July 2019 held the Soybean field day to evaluate 35 soybean varieties from Africa.
The function was held at Makerere University's Agricultural Research Institute Kabanyolo (MUARIK) and attended by different stakeholders in the soybean value chain including Soybean farmers, processors, seed companies, local seed businesses, non-governmental organizations and researchers from government, private institutions and farmer groups.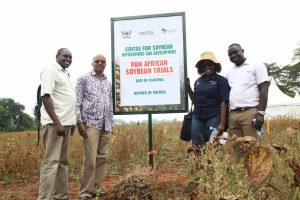 Makerere University's Plant Breeder and soybean researcher Prof. Phinehas Tukamuhabwa said the purpose is to expose the stakeholders to the best practices of soybean production and also exchange ideas on what challenges they face in soybean production and the good aspects seen with the technologies in the field condition.
"We are here for the case of soybean. We organized this field day so that these different stakeholders come here at MUARIK where we do research, they look at the different varieties that we have. Some varieties have been released, others have been sanctioned within particular regions, others are at national level and others still under development for future release and commercialization", Tukamuhabwa said.
Prof. Tukamuhabwa said one of the trials they have specifically focused on is called Pan African Soybean trial. This trial gets varieties from different countries, combine them and try them in several countries.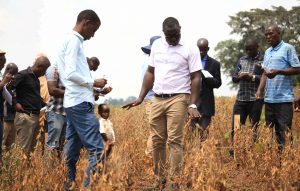 "We want to see the best varieties and then working with AATF we try and see how they can be commercialized in the region of Africa so that they benefit a larger community", Tukamuhabwa said.
Makerere University has developed and released six varieties of soybean cod named Maksoy bean 1N-6Nand many are promising. These varieties are widely grown across the country and are resistant to soybean rust disease,harsh conditions, lodging and pod shuttering.  They are also high yielding,early maturing with high protein and oil content.
Associate Plant breeder Tony Obua explained that they have collected different varieties of soybean from across Africa including Malawi, Zambia, Zimbabwe, Ethiopia, South Africa and Uganda to assess how they perform under Ugandan conditions.
"In here, we have a total of 35 varieties replicated three times and these are not only being evaluated at Kabanyolo here but in three other locations in ABIZARD in Arua, Ngetta in Lira and Nakabango in Jinja.
The field is participatory we want people to see, we have varieties from Uganda and we want the participants to identify if there is any variety that performs better than our Ugandan varieties so that we promote it", Obua explained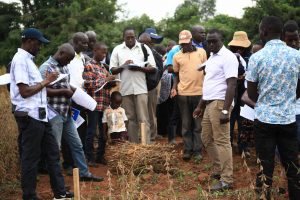 Mr. Obua said there has been a lot of increment of soybean growing in Uganda cutting across region because of the ready market.
"Soybean is very profitable venture for small scale farmers. With the cost benefit analysis we did, we realized that the total cost of production is shs. 960,000 and a profit of shs. 480,000-500,000 per acre meaning, the more acreage a farmer opens, the more yields and profits they get.
A kilogram of Soybean for foundation seed ranges between shs. 40000-6000. one needs to plant 20 kg per acre and the yield is between 800-1000 kg per acre" Obua narrated.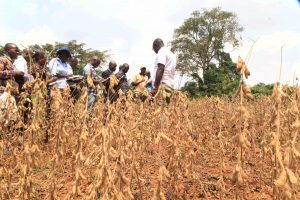 The Coordinator PASTTA project for Kenya, Uganda, Ghana and Malawi David Taurus appreciated Makerere university researchers for making soybean a face in the Ugandan economy.
"The work that researchers do make sense if they can give a solution to a farmer. So if we have technologies that enable farmers to produce not only for consumption but also support families and communities, this is what we want.
The only way that can make this happen is if we have technologies that are better marketable and technologies that farmers can easily deal with and soybean is one of them", Taurus said.
He explained that soybean is a good source of protein to both animals and humans and an alternative to the niche that all understand the issues that they bring.
"We are here today as a testimony that we are taking a right step towards the architect of soy bean technologies and as a demonstration that research done locally can bring a change to communities and lives of many farmers.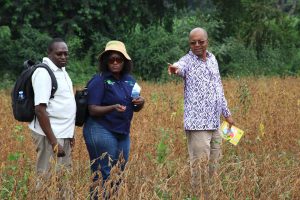 Soybean is a gold that has never been defined and this is the time. Soybean has a wide range of uses that what we can produce cannot satisfy the demand on the market. So we are talking about a potential for us producing not only for Uganda but also export.", Taurus explained.
Taurus implored farmers to take up the technologies, that are tolerant to stress, diseases, heat and use as well as input from seed,fertilizer to maximize productivity.
He pledged Commitment to ensuring that technologies reach out to intended end users.
Report compiled by:
Jane Anyango
Principal Communication Officer,
College of Agricultural and Environmental Sciences