Former Makerere University soil science Masters and PhD students on Saturday 17th August 2019 recognized Prof John Steven Tenywa (JS Tenywa) for his distinguished services as a scientist, lecturer and mentor.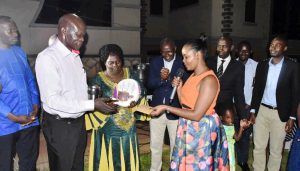 The students organized a surprise party and presented different gifts including a plaque and a sum of two million shillings to thank Prof. JS Tenywa for his dedicated service during their time of study at Makerere University.
The ceremony was organized by the alumni who felt the need to recognize someone who sacrificed his time to make them what they are today under the  coordination of   Dr. JB Tumuhairwe who is also new Head, Department of Agricultural Production and also former student to Prof. JS Tenywa.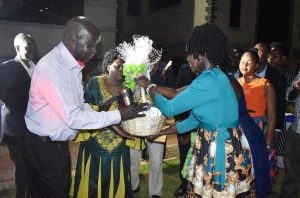 The function held at the Grand Global Hotel at Makerere Kikoni a Kampala suburb, was graced by the Principal, College of Agricultural and Environmental Sciences (CAES) Prof. Bernard Bashaasha and the new Head Department of Agricultural Production Dr. J B Tumuhairwe.
JS Tenywa is a Professor at the Department of Agricultural Production, College of Agricultural and Environmental Sciences Makerere University. He joined Makerere University as a Teaching Assistant in 1982 after attaining Bachelor's degree (BSc. Agric) in 1981. He holds a PhD in agronomy from the Ohio State University in USA, specialized in soil fertility and plant nutrition. He is also the Editor-in-Chief of the African Crop Science Journal of the African Crop Science Society.
He has supervised and mentored several M.Sc. and Doctoral students. He has widely published in regional and international journals. He serves as a board member to numerous journals. His main research areas include soil fertility management, plant nutrition, crop productions systems and ecology. He is a scientific writing trainer for project proposals and journal publishing, and has led training team in various institutions (including universities) in eastern, central and southern Africa.
In addition to attracting research grants, he has offered scholarship to students, taught, mentored and supervised graduate students many of whom are now serving   the university as staff, government ministries and research institutions and beyond the borders.
"This function is in honor of your distinguished contribution in the lives of the honorable people before you. You have done a lot in the lives of these people.
We are here to celebrate you as   an important person that has shaped every one of us here because you went beyond an academician, supervisor, and mentor to a parent and you strengthened many of us to speak before people", the Master of Ceremony Dr. Francis Ogwang justified the ceremony.
The function held at the Grand Global Hotel at Makerere Kikoni a Kampala suburb was characterized by moving testimonies about the don who initiated the idea of graduate seminar proposal presentations where students would present their research progress reports.
Many of the alumni testified and gave their experience with Prof. JS Tenywa during the seminars noting that not only, did they encounter an inspirational, kind and encouraging person during academic challenges, but also, a knowledgeable and principled scientist interested in the news, the science and contribution of the research being undertaken.
"He is one of the few, unique academics in the university. He sacrifices his time for students even without supervision money given to him. His key principle is that, if a student fails, then he has also failed.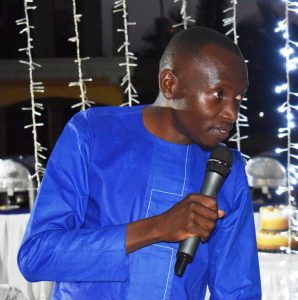 He is a quality man. His desire was to see competence and quality products out of his students", Dr. Patrick Musinguzi, former student and lecturer at the Department of Agricultural Production said.
"I faced the toughest questions from Prof. JS Tenywa during my defense to test my scientific maturity and this was the biggest achievement of molding and building my confidence.
I was able to publish as sole candidate(author) in a major journal. I get job offers not applied for because of the quality papers published under his mentorship", Another alumni and lecturer Dr. Godfrey Taulya testified.
The celebrated Prof. JS Tenywa, touched lives of other students beyond the agriculture discipline.
Dr. Daniel Nadhomi a Senior Lecturer from Kyambogo University and Board Member Uganda Meteorological Authority and NEMA was present to celebrate the wisdom of Prof. JS Tenywa.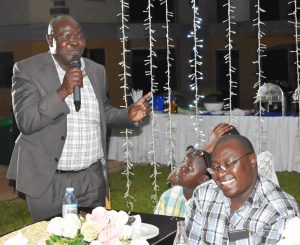 Dr. Nadhomi came from the Faculty of Arts (Geography) and was supervise by Prof. JS Tenywa during his Masters and PhD.
"I came from the then faculty of Arts as a lost sheep and he gave me confidence on how to finish my masters. He mentored us to speak and ask useful questions because when he was supervising us, he used to ask us where the story is in the research. His questions were: Where is the news? Where is the Science" What is your contribution"? Nodhomi recalled.
Dr. Nadhomi described Prof. JS Tenywa as a man who distinguished science and social aspects and one, with whom you would talk science in office but spoke as a parent outside office.
"He would tell me don't cry, I know you have the capacity". I am not his son nor a relative, but he gave me money to produce the science.
Let us think of creating the JS Tenywa Foundation and we contribute money towards that because some us have the capacity to do it.
We are celebrating the wisdom of Prof. JS Tenywa and we must make something to remember the works in us" Dr. Nadhomi proposed.
In his remarks, the Principal CAES Prof. Bernard Bashaasha described Prof. JS Tenywa as an academic giant and mentor.
Prof. Bashaasha said Prof. JS Tenywa was senior to him as he was a few years ahead of him during the undergraduate course. Bashaasha said he followed Prof. JS Tenywa to a PhD level and have had the opportunity to work together with him as editor of the African Crop Science Journal.
The Principal thanked Prof. JS Tenywa for leading the journal adding that the celebrated don was also reviving the MUARIK Bulletin to get it rolling.
"His mentorship speaks volumes cutting across disciplines and has been amazing. We recognize you for keeping the soil science alive.
During my year, only one student opted for soil science and management thought soil science was finished. It is alive and a great discipline today", Prof. Bashaasha commended.
The Principal appreciated Prof. Tenywa's continued research and capacity building effort adding that the college and Management has taken note of his mentorship because he has done what he would have wished to do.
"To you the beneficiaries, go and replicate what Prof. Tenywa has done to have a chain reaction and impact for the country to be a better place to live in." the Professor  advised.
Speaking on behalf of the mentees, George Aogon, an Agronomist with NACCRI Legume Research hailed Prof. JS Tenywa in terms of their experience and interaction with him including the way he built their careers.
He described Prof. JS Tenywa as a great icon of integrity and hard work as well as a great mentor who has created a sense of pride to a number of students both in soil, crop science and beyond.
Aogan said, one of the most interesting qualities to affirm about Prof. JS Tenywa and celebrate him for, was his dedication and willingness to put himself to see through his students.
Aogon noted that Prof. JS Tenywa used to find a lot of joy to hear his students or any student having completed their graduate studies.
"He sits down with any student who has gone to seek help as though it is him personally supervising and he always feels personally attached to them. For this, we chose as his mentees to celebrate his selflessness in churning out well trained personnel to help develop the agricultural sector in this country.
Prof. Tenywa dedicates time beyond working hours to read students work and support them to completion. He is always reading and has dedicated his entire life to read and improve the work of his students
The patience in his supervision and his ability to change approaches during supervision based on the performance of his students at that time makes him an outlier and therefore something worth celebrating", the mentee said.
Aogon hailed Prof. JS Tenywa for hatching a new approach where students with guidance of a senior person in the college, do presentations and people make comments to guide this student; resulting to normal progress and high graduation rates.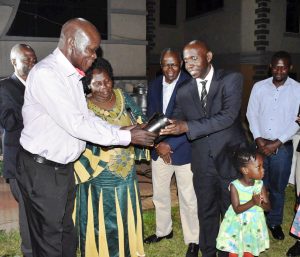 "However, on behalf of my colleagues and myself, we would like to request that these proposal and thesis seminar progress presentations initiated by Prof J S needs to be formalized within the college.
A lot of support is equally needed ranging from regular attendance by students and the students'supervisors.
We equally would like to implore management to device means of scaling out this approach to other departments and possibly if this works out, graduate school should use this to churn out the best graduates".
In his remarks, Prof. JS Tenywa said what galvanized them was the seminar group which originated from the book he has been writing together out of the fact that there many students looking for entry points.
Prof. Tenywa said a lot of things have changed in the sense that the university no longer gets normal students.
"Students could be disadvantaged in terms of level of knowledge, behavior and funding. Unlike our days when pocket money followed government scholarships, things have changed for the worse.
Students are looking for money to meet their academic needs and other demands and there is no meeting point with lecturers and therefore, the way we supervise them has to change to meet the prevailing conditions" Tenywa observed.
He disclosed that he was writing a book on how to manage students because they have different needs.
"I have a tool to do seminars and the anchor of this tool is that a student does course work but the actual space for science is seminars where he is challenged with difficult scenarios to turn theory to solve societal problems.
Along the value chain, what we are doing is to empower students to support others to reduce dependence on supervisors", Prof. JS Tenywa narrated.
The other aspect of the tool according to Prof. JS Tenywa is the need to change from draft reading to discussing with students to help them internalize their work.
'I am very pleased and touched that what I have been doing has sense in it. I always ask many questions and thought more people would not come but still they come.
I am really touched. Not everybody is receiving these testimonies and in my life at Makerere I haven't seen it but I am not different from others.
One other thing is to help others. Do the same thing I do to others because circumstances in the country are that money is not all but you can help others to read, give advice and you would have helped on my behalf", The don advised his mentees.
The after part appreciation to PhD and MSc. graduates (DAP) from JS Tenywa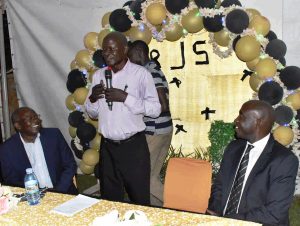 This is to submit to you all, my heartfelt gratitude for the recognition and honour extended to me and my family, in appreciation of my contribution to your academic progressions and careers. I was touched by your individual testimonies, emotions, gifts and the party moods during the Saturday 17th August 2019 occasion.
I am yet to witness another such occasion when graduate students at Makerere University spontaneously organize a party to recognize their professor even without having supervised many of you directly. Indeed, you have invalidated the saying making rounds at Makerere University that "the crops of graduate students we receive today are worse than before". Rather, it is the supervision demands and environments that have changed, and we as supervisors have failed to match with the changes.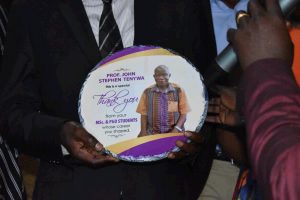 You have always made my days complete during the course of our seminar interactions, especially as you subconsciously contribute to some tools in my book draft titled "How to supervise graduate students", with a chapter on "How to supervise difficult-to-supervise students".
A vote of thanks goes to Professor Bernard Bashaasha (CAES Principal) and Dr. JB Tumuhairwe (DAP Head) for gracing the occasion. May the Lord bless you in all your endeavors as you extend professional help to others in need.
Article Compiled by
Jane Anyango,
Communication Officer, CAES