November 11, 2019
Posted by:

Albert Muhumuza

Category:

Uncategorized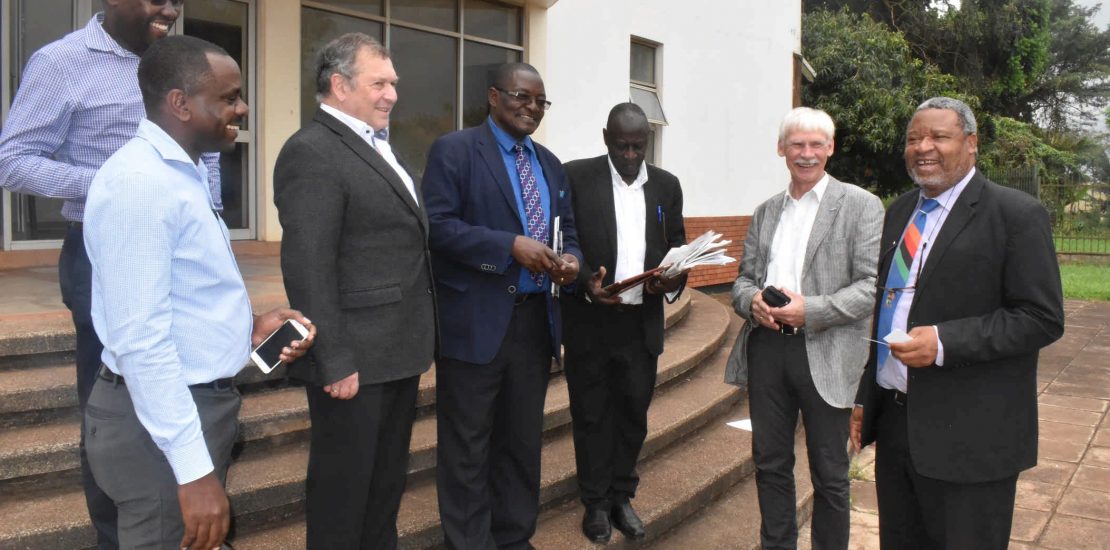 Towards Demand Driven Teaching (DDT) project has come to an end with call on universities, governments and national chamber of commerce to embrace an education system that links universities to industries to address the needs of society and create jobs for the youth.
The call was made during the final meeting to end the project where different partners chatted the way forward in terms of sustainability.
DDT" is an initiative among University of Siegen-Centre for International Capacity Development (CICD) in Germany, Makerere University College of Agricultural and Environmental Sciences in Uganda, University of Zambia (UNZA), Directorate of Research and Graduate Studies–Zambian Chamber of Commerce and Industry (ZACCI), Uganda National Chamber of Commerce and Industry (UNCCI), Agricultural Innovation Systems Brokerage Association, Uganda (AGINSBA), Les Rams Consult Limited Uganda, GI Geoinformatik GmbH, Augsburg, Germany and InnotechIngenieurgesellschaftmbH, Germany.
The initiative worth $ 400,000 USD was funded by Germany Exchange Services (DAAD) from 2016 to 2019. The German Academic Exchange Service (DAAD) is a self-governing organization of German universities with 238 member universities 107 student bodies.
The project final meeting was held on 8th November 2019 at the conference Hall school of Food Technology, Nutrition and Bio engineering Makerere University.The function brought together members from the partnering universities in Germany, Zambia, DR Congo and Uganda.
The Country Coordinator Uganda Assoc. Prof. Majaliwa Jackson Mwanjalolo, from the Department of Geography, Geoinformatics and Climatic Sciences, Country Coordinator Zambia Prof. Imasiku A. Nyambe University of Zambia – Directorate of Research and Graduate Studies, Zambia and the Country Coordinator Germany  Prof. Ruger Winnegge University of Siegen – CICD, Germany were present during the closing ceremony.
The goal of the DDT  initiative was to strengthen partnerships among German, Ugandan and Zambian academic institutions on the one hand, and business partners in the three countries on the other hand.
Practical elements have been incorporated and enhanced in existing Masters-level programmes so as to offer a job-oriented education and conduct practical training in Higher Education Institutions (HEI).
Additionally, DDT's mandate was to encourage young graduate entrepreneurs to start their own business through integrating universities and business developments in an innovative way.
Overall,this initiative has established and strengthen the partnerships between HEIs, institutions and industry in the region in order to better satisfy the requirements and developments of the job market in the future.
There also has been information flow not only from North to South, but in a South-South direction that has strengthened partnerships between African countries.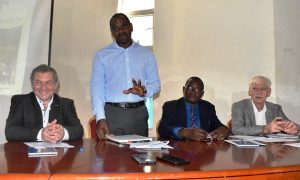 Speaking during the project final meeting on behalf of the Principal, Makerere University College of Agricultural and Environmental Sciences, Prof. Fred Babweteera said the DDT project is a wake-up call on African nations and Uganda in particular on the challenges faced   in terms higher-education training.
He observed that Uganda has the second youngest population worldwide with 75% of the population below the age 18. This, he said is a security threat since most of them are unemployed.
"Why is it that people who have jobs don not seem to find people to employ? And those seeking for jobs are unemployable. It seems there is a mismatch between the employer and those who look for jobs and don't find the jobs.    
We tend to train and focus on equipping skills and not attitudes. In primary schools, pupils  are trained to pass examinations and when they go out there, they have no idea of what to do in the real world. And to me, DDT program comes handy to try and explore how we can train people that will match the needs of the labour market." Assoc. Prof. Babweteera said.
Dr. Babweteera challenged colleagues at Makerere University and Zambia and other partner universities to think of how they can practically engage the chambers of commerce in training.
"I saw one program where they had an advisory board on each of the programs and members of that advisory board are people from industries. They would come and advise what needs to be taught and then the academicians would try to craft that to fit in the curriculum and the requirements of the National Council for Higher Education. I want to challenge ourselves and try to incorporate the industry in our teaching-simple things like guest lecturers coming from the industries so that they can give a totally different perspective from what we give from standard lectures."
Dr. Babweetera also said the university has been lucky to get funding from partner institutions and Germany to promote the North – South and South – South collaboration. He challenged colleagues at the university to engage the industries to fund some of the works done by the universities.
"This is the message for the Chamber president to take back to the industries. As universities, we want to move forward on engaging in practically oriented teaching and learning that the graduates we produce are acceptable and can fit within the labor market but if the industry expects magic, it is not going to happen unless they come upfront and also fund that process". Dr. Babweteera appealed.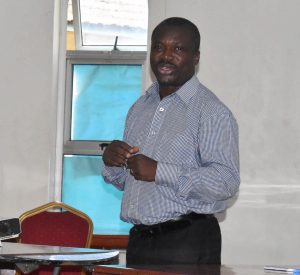 Uganda and Makerere University Project Coordinator Prof. Jackson Majaliwa Mwanjololo said the project started in 2016 at an estimated budget of $400,000 from DAAD for the three partnering universities. Out of this,Makerere and University of Zambia were allocated $100,000. The rest of the funds catered for taking Ugandan and Zambian students to Germany for training.
Prof. Majaliwa said the biggest achievement in this project has been the link in the chamber to assist the university to grant internship and linkage with the industry.
"But secondly is also the strengthening of the partnership between Makerere university and university of Zambia and the chamber of Commerce in Zambia and thirdly, sending students in Germany and making linkages between Makerere university and industries in Germany." Prof. Majaliwa said.
He said Makerere university had a partnership with the university of Siegen Germany and established two regionally recognized postgraduate programs – the Integrated Watershed Management (IWSM) in Kenyatta university in Kenya and at Makerere University. While the university of Siegan had established a program on energy management at University of Zambia.
At that time, he said the partnering universities had established a partnership between industries and universities while at Makerere university's School of Food Technology Nutrition and Bio engineering had established the Food Technology and Incubation Centre with the support of the Presidential initiative, those are the two elements that promoted the coming up of this project.
Prof. Majaliwa explained that while Makerere had gone ahead with incubation, Zambia university had established the link with the chamber and industries which was not of part of what Makerere was doing and hence the need to learn from Zambia and Zambia to learn from Makerere University.
"What we learnt from Zambia is that we can actually train better our students by linking them with industries and we can improve our program because the people to employ our students are the industries. So, we can tailor our programs based on the needs of our industries.
The Zambians have learnt from Makerere that the best way of training students is having the incubation centres. They did not have the money to set up the incubation facility because it is expensive unlike Makerere that was supported by the presidential initiative. So, we hope they would be able to leverage for some resources either by the World Bank or Government of Zambia to put similar incubation facility at University of Zambia.
We gained a lot of   computers from this partnership but we also put in place a hydrological modelling unit in the Department of Agricultural Production because under Integrated Watershed Management Program, we are training people to manage catchment basins to improve the water quality and quantity wherever they will be. So they need proper tools in order to simulate this on the computer and this was provided under this project", Prof. Majaliwa explained the benefits from project adding that:
"This is very important for the Ministry of Water and Environment that was sending us students for training. We shall also get a dryer for this project from Germany for the Presidential Initiative on bananas. So, our school of Food Technology, Nutrition and Bio engineering and students of Integrated Watershed Management can use this for training". Prof. Majaliwa noted.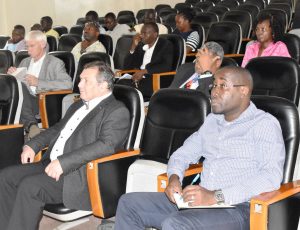 The Country Coordinator Germany Prof. Ruger Winnegge University of Siegen – CICD, said the program was established for years ago to better link universities and business partners through the Germany Exchange Services (DAAD)as a program for the betterment  of education service at universities and for the better performance of business partners to do something for the betterment of the participating countries.
"The key aspects of this project is to have an exchange between North- South that is, between Germany and countries in Africa.  We in Germany have to internationalize our activities to go abroad to learn from other situations and also our system in Germany.
 Then, we have the South – South component that is, the exchange between Zambia and Ugandan partners to learn from different experiences and challenges within the African continent. It is  good to  have exchange of ideas from the South and also  within the region", Prof. Ruger said.
He clarified that the closure of the project is not the end of the cooperation but, one step accomplished after the successful implementation of what was spelt in the Memorandum of Understanding and an opportunity to come up with new ideas on how to move forward.
Though with some challenges due to changes in prevailing conditions, Prof. Ruger expressed happiness that the intended project objectives were achieved and thanked partners for the support and commitment.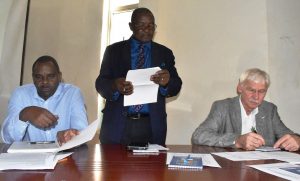 Speaking on behalf of the President Uganda National Chamber of Commerce and Industry (UNCCI)  Mr. Fred Matovu said  UNCCI  was part of the Memorundum of Understanding in respect to DAAD program towards Demand Driven Teaching in Uganda and Zambia.
"The current higher education calls for Demand Driven Teaching. On our part, we will do all the best to promote Demand Driven Teaching through strengthening collaborations between industrialists and universities.
We have already offered an office, computer and staff to this effect. To achieve this, efforts are already in place to have the current student internship placement programme which is housed at our secretariat at the UNCCI.", Mr. Matovu pledged.
The President said the National Chamber of Commerce was committed to seeing that universities and tertiary institutions educate students by moving them where business is to bridge the gap.
He said, unlike the previous years where university graduates looked for jobs after graduation and the industries looking for employees, they want to see an education system that matches students to the available jobs.
"The chamber of commerce is trying to see to it that students from year one know which business or industry they are going to work on with the main emphasis on agribusiness. This program has been linking businessmen and the universities.
We are trying to address the curriculum which is taught in tertiary institutions. It must be a curriculum needed in the business community to get the youth off the streets so that they do not become a security threat", Mr. Matovu affirmed.
He said, there is group of twelve member countries in the Great lakes region involved in this drive of university-industry linkages moving in different countries to lobby for political will from governments. The idea he said, revolves around involving the youth in the Great lakes  region through university- business linkages and Public Private Partnerships.
Under that link of youth and institution, Mr. Matovu said they are trying to address teaching for a purpose whereby all courses taught must be applicable to society.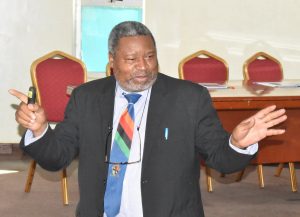 The Country Coordinator Zambia Prof. Imasiku A. Nyambe said  initially Zambia started with Corporate Graduate Link Programme in 2012-2014.
The goal was to establish a graduate knowledge transfer link between the Zambian universities UNZA / CBU and the Zambian chambers of commerce and Zambian industry in cooperation with German industry, German chamber of commerce and University of Siegen.
The project according to Prof. Imasiku aimed at the partnership-based exchange of German and Zambian academics, researchers, students and alumni to build links with Industry with a focus on the development of high quality student programmes with industry input; development of research agendas through establishment of Centres of Excellence as advised by industry.
It also involved Business Enterprise Engagement through building corporate image of the universities by establishing relations with government and strategic linkages with Chamber of Commerce and industries in order to produce a graduate who is relevant to the job market.
The third aspect was creating a vibrant culture that embraces and fosters innovation, responsiveness, inclusiveness, accessibility, diversity and effective stewardship.
Partners in this program included Centre for International Capacity Development (CICD), University of Siegen, University of Zambia (UNZA), Lusaka, Zambia , Copperbelt University (CBU) – Kitwe, Zambia , Zambia Associations of Chambers of Commerce and Industry (ZACCI), Lusaka, Ministry of Education, Science, Vocational Training and Early Education – Zambia, Konkola Copper Mines Plc, Lusaka, Chamber of Commerce and Industry for the Lake of Constanze and Upper Swabia region (CCI-LCUS), Weingarten, Germany, IngenieurgesellschaftfürGeophysikalischeMesstechnik IGM Geophysik – Überlingen, Germany
Using the experiences and lessons learnt from the CoGL programme, the Towards Demand Driven Teaching  in Uganda and Zambia – DDT was launched by the Minister of Higher Education, Honorable Kaingu then, in October 2016.
Prof. Imasiku explained that the objectives the DDT project were to continue the successful start with CoGL in Zambia; bring up new partners in Uganda into the programme and develop a South-South dialogue and  transfer lessons learned about practical orientation of study programmes from Zambia to Uganda.
The other objectives were to transfer knowledge on incubator implementation from Uganda to Zambia and to add business partners to the network", Prof. Imasiku said.Partners in Zambia  include the Zambian Association of Chamber and Commerce (ZACCI), Investments Holdings Plc (ZCCM-IH) and  Ministry of Higher Education, Zambia
Main activities he said included the  development, updating of the CoGL platform  to be shared between Zambia and Uganda and undertake South – South Exchange, formulation of the  proposal for establishing incubators – at UNZA,  and purchase of equipment /furniture for showcasing research results – at UNZA's Research Output Oriented Incubator.
"Over 30 people in Government institutions, private sector (mainly ZACCI members), UNZA bilateral organisations (e.g World Bank) benefited on Incubator training by Prof. William Kyamuhangire of Makerere University in 2018 and 2019.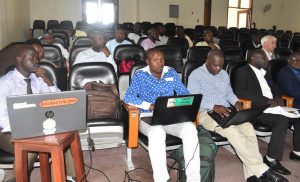 8 Zambians from UNZA and ZACCI participated in the South-South Exchange i.e. visited and learned on Incubator setting at Makerere University.
Four proposals have been concluded on:University of Zambia Food Processing Incubation facility (Dr. Vincent Nyau), University of Zambia TDAU Engineering Innovations and Incubation Centre (LeonardSimukoko), UNZA natural products Incubation Centre (Dr. James Nyirenda)
And, UNZA Gemstone and Jewellery Incubation Centre (Dr.Kaonda Mususu)", Prof. Imasiku  explained some of the project benefits  in Zambia.
Other project benefits highlighted included the official hand over of Incubator Centre to Directorate of Research and Graduate Studies of UNZA on  29th August 2019 and equipment for all schools in the Incubation Centre, partly contributed by ZCCM-IH.
Report compiled by;
Jane Anyango,
Principal Communication Officer,
College of Agricultural and Environmental Sciences,Makerere University