July 4, 2019
Posted by:

Albert Muhumuza

Category:

Uncategorized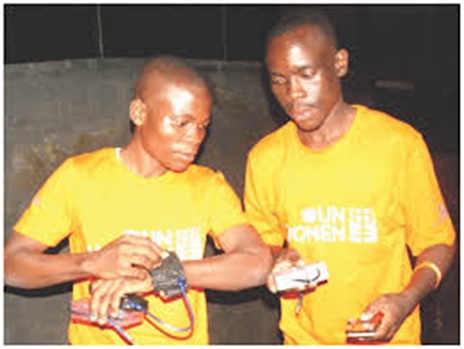 Kamya and his teammate demonstrating the technology during the award of the 2017/18 Ending Violence Against Women and girls Hackathon by UN WOMEN
Suzan Magara was a 28-year-old cashier with Bwendero Dairy Farm (BDF), an educated lady with a very promising career full of ambitions and goals. On 7th February 2018, while from work, she was kidnapped.  After 7 days of search, she was found gang raped, tortured, killed and her body dumped in the bush. In Uganda, this is just one of the thousands of both told and untold stories of women and girls violated annually.
According to the Uganda Demographic survey (2017), over 56% of women in Uganda have ever experienced sexual violence. This has led to death and poor reproductive health of women and girls engaged in Agriculture thus preventing them from achieving a better life. However, the existing solutions mainly address sensitization and post violence reporting thus leaving survivors like the late Suzan Magara with limited options to seek for help when being violated.
Because of such incidences,  Makerere University Agricultural students, led by one Ambrose Kamya  with the mentorship of Professor Fred Kabi, ideated SafeBangle and  set up a multi-disciplinary team that has developed a working prototype.
SafeBangle is a social enterprise that develops wearable that women and girls like the late Suzan Magara that need personal safety from sexual/physical abuse to easily and quickly seek real-time help when facing such situations.
When activated, it sends notifications to registered contacts indicating the physical location of the survivor for quick rescue in addition to collecting evidence for use by survivor when seeking legal Justice, as well as making a loud alarm.
"We began SafeBangle in April 2018 and with support from UN WOMEN, Resilient Africa Network and United Social Ventures worth $3,000. We have been able to prototype and test SafeBangle in Gulu district.
Currently, we are working on the final prototype for re-testing, launching and piloting. In addition, we have so far sensitized over 5,000 women and men on the importance of ending violence against women and girls. We have done this through Institutions of Higher learning and public places like local markets",  Kamya said.
According to Kamya, the SafeBangle technology has opened doors for so many opportunities for the team within and beyond Africa.
"We won the 2018 Makerere University College of Computing Annual Innovation challenge and  the 2017/18 Ending Violence Against Women and girls Hackathon by UN WOMEN. We were also recognized by the Parliament of Uganda during the 2019 parliamentary week on Science, Technology and Innovation". Kamya added.
At a personal level Ambrose Kamya was competitively selected for the 2019 Young African Leadership Initiative (YALI) Regional Leadership Centre for a professional training of leadership in business, cohort 31.
YALI is an initiative that was begun by President Barack Obama aimed at empowering young African leadership in Business, Civic and Public management for sustainable development of Africa. It competitively selects 700 young leaders across the Sub-Saharan Africa for a leadership training in different competitively selected colleges and Universities in USA.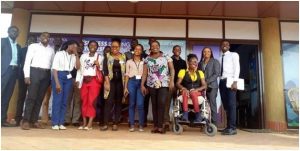 In February 2019,  Kamya was attached to Kenyatta University in Nairobi for 4 weeks of training.
"I obtained these  opportunities because of the work I have done with SafeBangle.
I was selected for the 2019 Mandela Washington Fellowship (MWF-YALI) for a further   professional training of leadership in Business. I was therefore attached to University of Notre Dame-South Bend, Indiana State. In the USA  where am taking both academic and non -academic classes for a period of 6 weeks.I was therefore attached to University of Notre Dame, Indiana State…USA  where am taking both academic and non academic classes for a period of 6 weeks".
He said the team is looking forward to sourcing funds to produce a test product model and lauchSafeBangle before the end of 2019.".Kamya narrated.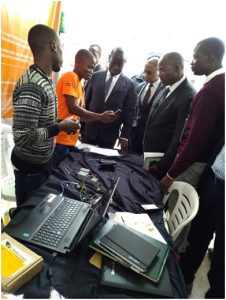 Article Compiled by:
Jane Anyango
Principal Communication Officer,
Makerere University,
College of Agricultural and Environmental Sciences (CAES)