July 31, 2019
Posted by:

Albert Muhumuza

Category:

Uncategorized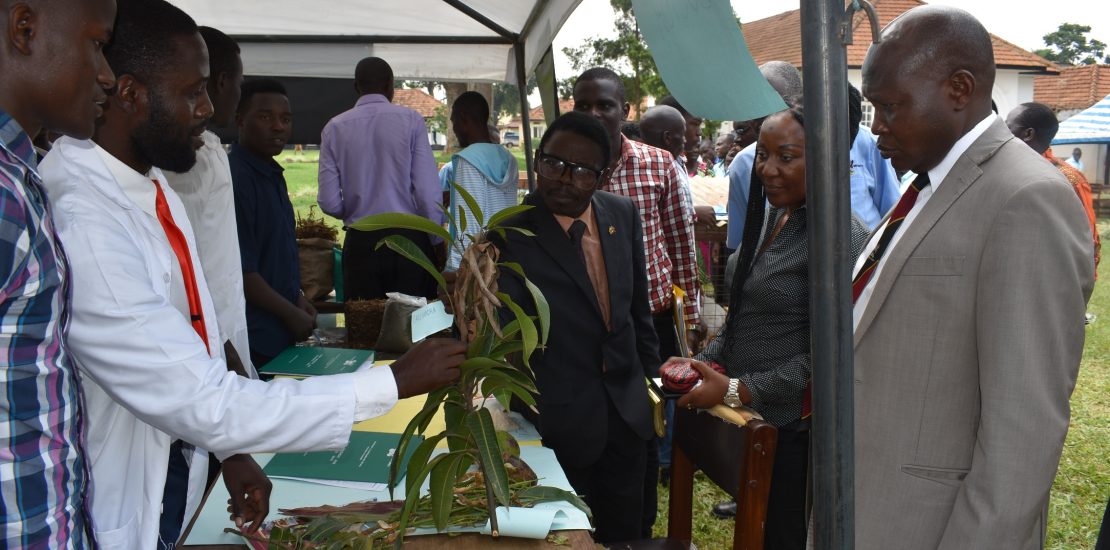 Makerere University College of Agricultural and Environmental sciences on 26th July, 2019 held the Field day to mark the end of recess term activities semester II 2018/2019. The function was held at the students' hostel at the Makerere University Agricultural Research Institute Kabanyolo (MUARIK).The purpose is for students to practice and demonstrate skills acquired in class.
The function was graced by the Vice Chancellor represented by the Deputy Director, Directorate of Graduate Research and Training (DGRT) Dr. David Owiny and Dr. Godfrey Lusiba Sebagala as the Guest of Honor. Other participants included Makerere University staff, farmers, alumni students, surrounding community members and secondary schools, representatives from manufacturing and processing companies among others.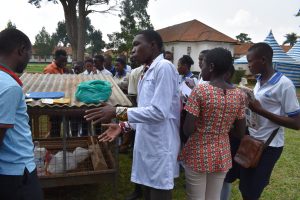 Over 120 undergraduate students undertaking BSc. Agriculture, BSc. Horticulture, Bachelor of Agricultural and Rural Innovations, BSc. Food Science and Technology underwent a 10 weeks competence based training to equip them with hands on skills ranging from production, management and entrepreneurship.The students departed for internship and recess term from the main campus on 18th May, 2019. The activities begun on Monday 20th May 2019 ending 26th July 2019 (10 weeks). 
They demonstrated different technologies including poultry management and production, making organic manure,value addition to agricultural produce, diagnosis of disease and pest management in crops, Banana tissue culture production, health and dieting, farm machinery and management.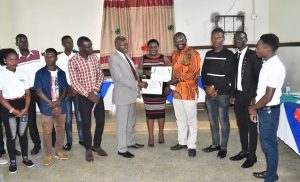 This year, the recess term was coordinated by Dr. Akello Sarah and Mr. Anthony Mwijje who received certificates from the students' leadership in recognition of their love and efforts to contain students' discipline amidst financial challenges.
Representing the Deputy Vice Chancellor in charge of Academics on behalf of the Vice Chancellor, Dr. David Owiny described the recess term as leave from the classroom environment to learn special skills.
"… I am going to take the message to the DVC AA that we should plan avail adequate money for recess term activities. …When you get outside, there are lots of things to do. You cannot use all the skills acquired, pick one or two of the skills to survive," Dr. Owinyi said.
He commended the coordinators for inviting motivational speakers and secondary schools to the field day saying, not only is it inspirational, but also helps them learn things that will shape their future.
"What will change your life may be what you studied at secondary school. When you get out there don't carry degrees and the attitude of, "if I don't get this job I am finished. Put the degree on the side to think outside the box".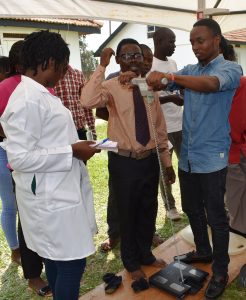 The Guest of Honor, Dr. Godfrey Lusiba Sebagala said recess term is a time for critical reflection of what was learnt, putting it into practice and getting in touch with future employers.
"Each course unit you do be it statistics, animal husbandry etc, look at as is a future job or employer. Therefore, recess term is an opportunity to find out what you can do in the field if you leave the university", Dr. Sebagala said.
Giving his own history as a basis to try targets, Dr. Sebagala implored students to have a positive mindset and always reflect on their backgrounds.
"I used to supply cabbages, eggplants and tomatoes in Makerere hostels in 1983. You cannot be successful unless you change your mindset. You have to reflect on where you came from if you are to make any impact".
Dr. Sebagala who rose from selling grocery to university graduate of all levels, lecturer at one time, now a leading entrepreneur and consultant informed students that those who came with a mindset to get pass degrees, to fail or succeed will get that respectively.
Sebagala reminded students that they were living in a hostile and competitive environment. He expressed the need for students to identify course units that will turn their lives and those thinking of agriculture to identify at what part of the value chain to start and be mindful of good quality, consistent supply and value addition.
The deputy Principal CAES Dr. Gorettie Nabanoga congratulated students upon finishing the recess term.
Dr. Nabonoga said as a university there is need to contribute to the development of the nation saying Uganda's economy is sustained by agriculture thereby placing the CAES as key in the development process by building capacity through training.
"Change of mindset is very important. If you leave the university without skills development it is useless. Change of attitude will help you utilize the skills acquired" Nabanoga said.
 She said, recess was the time   to pick over things not in the books and apply theory on what can move.
"There is nothing that will move you anywhere without an innovative mind. Have an inquisitive mind and transform what you see on a day today basis. "The Deputy Principal said.
She also implored students to think about improving the quality of things surrounding them through value addition.
The opening ceremony was also punctuated by motivational speeches from CAES alumni and successful entrepreneurs. They included former BSc Agriculture students Deogratius, Director Super Chicco Investments and Ogenrworth Brian former Agribusiness Management student.
Report compiled by:
Jane Anyango
Principal Communication Officer, CAES