August 7, 2020
Posted by:

Albert Muhumuza

Category:

news
15 Kits fabricated and donated to health facilities and markets
Over 40,000 hand washers recorded from Kits installed in one week
A Kit costs UGX 1,600,000 ;  half price for large scale production.
Makerere University has launched a Touchless Handwashing (Tw-20) Kit as a responsive technology to the COVID-19 Pandemic resulting from the need to limit contact with surfaces while ensuring diligent hand hygiene.
The technology was launched on 7th August, 2020 at the University Main Building during the Scientific function witnessed by the Assistant Commissioner, Innovations and Intellectual Property Management Patrick J. Mugisha from the Ministry of Science, Technology and Innovation.
One kit was donated to Makerere University Main Building received by the Director Makerere University Estates and Works Department Eng. Christine Kakeeto  and  another one given to the University Hospital received by the  University Hospital Director, Dr. Josaphat K. Byamugisha.
Also present were the project partners from the Department of Agricultural and Biosystems Engineering, Makerere University Biomedical Engineering Unit, Makerere University Mak-RIF Secretariat and Badaye Technologies.
The university is implementing a project titled," Development of a Green Low Cost Touchless Handwash Technology ( TW-20 Kit) for public Shared Spaces", funded by the Government of Uganda through the Makerere University Research and Innovation Fund (Mak-RIF).
The project is spearheaded by Dr. Joshua Wanyama as the Principal Investigator (PI) from the Department of Agricultural and Bio systems Engineering, College of Agricultural and Environmental Sciences assisted by Dr. Robert T Ssekitoleko as Co-PI from the Department of Physiology, College of Health Sciences.
Dr. Wanyama said when the first COVID -19 case in Uganda was announced in March 2020, Badaye (a private firm owned by Mak Alumni) embarked on developing and testing the first prototype of the TW-20 Kit to automate handwashing.
He explained that TW as an acronym signifies the," Touchless Wash" while ,"20" signifies the 20 seconds which are minimally recommended by WHO to effectively  hand wash with soap.
He said that after the development of the first prototype, the Kit was trialed in the Kasubi-Kawaala suburb and Kawaala  Health Centre IV for a month to obtain field based preliminary results for proof-of-concept and feedback from users.
Dr. Wanyama reported that the results were convincing and based on the results, there was need to improve the design of the Kit and thus Badaye partnered with Makerere University to move the project further.
"With support from Mak-RIF, the design has been improved and 15 Kits fabricated and installed at different publicly shared spaces in Kampala Metropolitan Area. The results are exciting; we have recorded over 40,000 handwashers from the Kits installed in just one week of Installation", Dr. Wanyama stated.
The 15 beneficiaries of TW-20 Kits are:-  Makerere University, Makerere University Hospital, Mulago National Referal Hospital, Kawempe National Refferal Hospital, Luweero town Market and Kiruddu National Refferal Hospital. Others are Kalerwe Market, Kawaala Health Centre  IV, Nansana- Masitoowa market, Entebbe Grade B Hospital, Nakasero Market, Nakawa Market, Mbuya market and Mukono Health Centre IV.
"With the current progress on hand washing hygiene adherence, we have reported a need to increase the number of kits installed and also scale out to different points and this is where we need a hand from different developmental partners and Mak-RIF to expand our collective impact in the COVID 19 fight", The PI Dr. Joshua Wanyama submitted.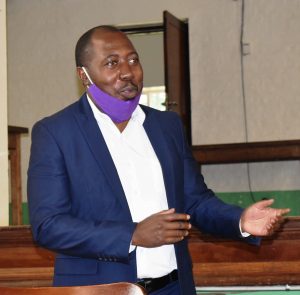 The Assistant Commissioner Innovations and Intellectual Property Management in the Ministry of Science, Technology and Innovation Patrick J. Mugisha said the ministry was practically more set to coordinate the research innovation ecosystem in the country by engaging different players, the biggest being the academia.
He said for a long time the country has had many questions put forward to the academia for doing a lot of research and the economic tangible output of their research.
"Now something is up in the cooking within the university setting. They have realized the need to take advantage and establish a functional   Innovation Fund Management and Intellectual Property office.  I want to thank the PI and team, Badaye Technolpogies and Makerere University for giving them the platform to make this possible . I want to thank Mak –RIF for the hard lobbying for money and making the office functional." Commissioner Mugisha appreciated.
He urged every stake holder to turn around the fortunes of Makerere University by embracing   the value of Intellectual Property saying, incentives are available and what they should do is to invent, value research, have startups, link the university to industry and lots of royalties and payments will be coming into the university.
As a ministry Mr. Mugisha pledged support and endorsement of the technology, take over the entire development team on Innovation and IP Management as well as the technical aspects since a lot is expected to come out of this innovation.
The Mak-RIF Engagement Officer Ms. Carol Kamugira said Makerere University asked Government for help to get the research output off the shelves into the society and government responded to support high impact research and innovations  in health agriculture, engineering among others.
" We got a big funding of shs.30 billion per year for the next three years. A special and very urgent  call for COVID-19 funding came up . So Dr. Wanyama and Dr. Ssekitoleko were among those brilliant people that responded  with a great project that you could see an impact in a short time.
We received 300 applications and very few people were selected for the COVID-19 call. It is very amazing to see that something small like handwashing practice that had been forgotten for a long time has attracted the attention of the whole world. We are happy to see that the result are   already on the ground", Ms.Kamugira appreciated.
Julius Mugaga working with Badaye Technologies explained that the technology allows one to wash hands without touching anything but using normal jerricans, water and liquid soap.
He said the major component of the Kit is the spout where water and soap comes from but the system is built with solar, a battery and can be plugged in electricity.
"This system dispenses soap, gives you time of about 10 seconds to rub before it can give you rinsing water. It is precise, in that, it will always give you enough soap and water, no excess no less. Also every time the system gets used, we can monitor two parameters-: performance   in terms of the kit technical operations and defaults and performance of how many people are using it at a time" Mr. Mugaga said.
This means that if given to an institution, one can monitor the behavior of the users without being on site because the report will come out daily, weekly or as requested.
The other advantage of this kit is that because it gives data, one can compare the data with other users in different sites to see the performance as a country eg the performance of a sector, a hospital, school or a market.
"With that data we are trying to make sure that handwashing can be remotely and digitally be monitored. We have started receiving orders and we are happy that public parastatals are putting in orders but we are in research Phase".
The system is good for a community of 50+ people. So, schools, markets, hospitals, universities need this because they crowd where its difficult to regulate handwashing.
The kit has an audio guide while one is washing hands, it gives instructions in English, Luganda but it can be customized according to what needs of organization for example passing on information for business for every person who washes hands." Mr. Mugaga explained.
Mr. Magaga also said, the Kit can  be supplied at a cost of UGX 1,600,000 but this can be  reduced to half for large scale production.
Report Compiled by
Jane Anyango,
Principal Communication Officer, CAES