November 26, 2020
Posted by:

Albert Muhumuza

Category:

news
Makerere University College of Agricultural and Environmental Sciences (CAES) has launched the monthly  policy seminar series to re-ignite the debate and bridge the existing knowledge gap between research and policy making on issues of agricultural and rural development.
The initiative supported by the Government of Uganda through the Research and Innovation fund (RIF), is being spearheaded by Dr. Rosemary Isoto (Principal Investigator ( PI),  assisted by Prof Theodora Hyuha and Prof Bernard Bashaasha, all  from the Department of Agribusiness and Natural Resource Economics (DANRE) School of Agricultural Sciences, the latter is also Principal CAES.
The function attracted over 100 participants physically and virtually and comprised members of the academia from Makerere and other universities, research, government ministries and agencies, development partners, the Private Sector and the Civil Society Organizations.
The monthly policy seminar series were officially launched on 24th November, 2020, by the Chairperson, National Planning Authority (NPA) represented by the Deputy Chairperson Prof. Sam Obwoya while the   Keynote address was delivered by Makerere University Chancellor Prof. Ezra Suruma at the Conference Hall, School of Food Technology, Nutrition and Bioengineering.
The function was also graced by Makerere University Vice Chancellor, Prof. Barnabas Nawangwe and the Chair, RIF Grants Management Committee (GMC) represented by Mr. John Mutenyo.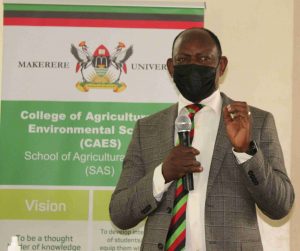 In his welcome remarks, the Vice Chancellor Prof. Barnabas Nawangwe said something good was happening at Makerere University these days.
"Every day, there is a seminar on innovation or disseminating research findings and that is mainly because of the research fund that was given by government for  the first time Makerere to get a dedicated fund for research and  not a small fund, 30 billion shillings.
That is a very good start that is enabling staff do research on national development issues and every seminar I attend, makes me very proud that I am the Vice Chancellor at the time", Prof. Nawangwe remarked.
The Vice Chancellor reminded participants that Uganda's population is estimated to be 100 million in 2050.
Prof. Nawangwe also referred participants to the commotion the country witnessed the other week with a population of 45 million over the arrest of the presidential aspirant Hon. Robert Kyagulanyi Sentamu and challenged the audience to think of the magnitude of the commotion that 100 million people can cause if the development issues are not addressed.
The Vice Chancellor said, Uganda is likely to be one of the least urbanizing countries in Africa for now but the estimate for that year 2050, is that the country's urbanization would have reached 22% with 22 million people living in urban centers.
He however noted that Uganda will remain largely rural and the least urbanized because, most of the population will still be in the rural areas and likely to remain for a long time for many reasons including good climate and land where people can feed themselves.
"But it also means, that if we think about developing Uganda, we will not develop until we have developed the rural areas  because we have two different types of populations- those in urban areas with everything and those living  in object poverty in the rural areas", Said Prof. Nawangwe.
Prof. Nawangwe expressed happiness that the CAES had started an initiative on seminar series on policy discourse on agriculture and  rural development.
He also expressed gratitude that the Chancellor personally, was giving the first lecture not that he is   Chancellor, but, an expert in that area adding that, it was right that he came to the university,  which he insists  should be the engine of development to the country.
The Vice Chancellor recognized,  congratulated and expressed pride in the CAES for being vibrant in research and, being among the most vibrant college of agriculture on the African continent providing lead  and backing RUFORUM and other very strong agencies like the World Bank in training people in crop improvement.
"If our people are going to get out of poverty, the College of Agricultural and Environmental Sciences is crucial in finding the solutions", The VC stated.
The Principal CAES, Prof. Bernard Bashaasha thanked the participants for sparing their valuable time to attend the meeting noting that physical meetings are difficult these days due to the new normal.
"It is an inaugural policy series meeting with   focus on rural development. Rural Development is about providing opportunities and wellbeing of the rural people. We all recognize that majority of our people still live in the rural areas and many of us tress our roots in the rural areas". Said Prof. Bashaasha.
Prof. Bashaasha clarified that rural development should not be confused with agricultural development because agricultural development is just  a subset of rural development. He explained that rural development is broad and encompasses health, nutrition, education, infrastructure, environment and even gender.
The Principal noted that, the debate on rural development has been on and off and, this is the time for the university to keep this debate to light and make it  vibrant because it is important for the good of the citizens.
"Rural development is good for all of us in town and in the villages to improve the livelihoods of our people and wellbeing and, when poverty reduces and income increases then, we are all happy and that is what we have always aspired for.
Rural development is important to curtail the rural-urban migration, to secure food and nutritional security for us and our people. The people who feed us and the food we eat comes from rural areas.
Rural development is also good for environmental protection including natural resources and the climate because once things go well in the rural areas, the environment is protected and nurtured and we all enjoy those ecosystem benefits and gender equality including reducing inequality and unrest". Prof. Bashaasha who is also on the research team remarked.
Prof. Bashaasha said the initiative being launched is aimed at building the bridge among actors in the policy chain including the academia, researchers and policy makers.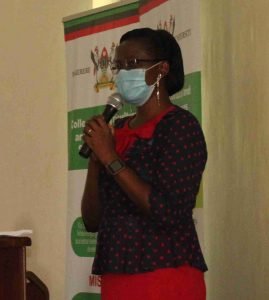 The Principal Investigator Dr. Rosemary Isoto explained that the project focuses on filling the existing policy gaps.
She said although there is a lot of  research that  has been going on and a lot of the research output from the university, there is something missing to link the output from researchers and academicians with the policy makers.
Dr. Isoto said, it is important to have policies that are backed up by research evidence.
"So we decided when we saw this call  that we should set a platform where we can bring academicians, researchers together with policy makers and  advisors to share what is generated to be able to inform  the policies so that the policies that are generated and implemented have impact in the rural areas" The PI said.
Dr. Isoto thanked the Mak-RIF for considering the proposal as important and providing funding to set the platform.
She said at the end, the project is expected to come up with an institute like a Rural Development Institute which will sponsor the initiatives and even farther it beyond the RIF funding.
In addition, Isoto said the research team is expected to organize monthly seminars bringing together   researchers and policy makers and advisors, produce policy briefs by converting the scientific language in journals understandable by policy makers for utilization during the one year period.
The PI also said,  the team  will be able to produce newsletters out of the many research conducted for sharing with policy makers to generate research  evidence-based policies.
"We also hope we shall be able to tool and skill graduate students and engage them in this project so that they are part of the entire process from being researchers to distilling policy messages to policy output and being able to disseminate them", The PI reported.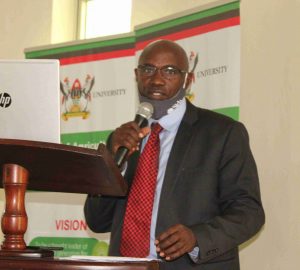 Representing the Chair RIF Grants Management Committee (GMC) Mr. John Mutenyo thanked the university management for the ability to lobby and receive UGX 30 billion from the government to conduct research adding that, more money was promised for the current Financial year.
"We thank you for the move because this is the first time that Makerere University is getting research funding from the government of Uganda. We also thank the research team for this work which is putting and raising Makerere higher and higher. Through this work, Makerere is getting more recognition and people are getting to know what Makerere is doing". Mr. Mutenyo commended.
Mr. Mutenyo thanked other researchers going out there to the communities doing similar and other works.
As GMC, Mutenyo said after receiving money from the government, it was given to over 200 researchers after satisfaction that the research bridges the gap between research and policy to enhance research utility and inform policy for the good of Ugandans.
He said, as RIF, they are mindful of the importance of agriculture and rural development to catalyze economic transformation in Uganda and hence, made an input to improve the focus and strengthen this initiative.
"We are glad that this project results are in line with the National Development Plans (NDP III). The university has the obligation to teach, conduct research and provide services to the communities. It is a pleasure that you are bringing the community to Makerere and taking Makerere to the community". Mr. Mutenyo said.
He reported that government was still committed to bringing in more resources to Makerere, and implored the Chancellor, Vice Chancellor and entire management to continue talks with government over funds for research so as to attain the Sustainable Development Goals (SDGs).
In his key note address titled, "Revisiting Uganda's Rural Development   Strategy",   Makerere University Chancellor Prof. Ezra Suruma proposed the adoption of the Parish model as opposed to the sector-led model.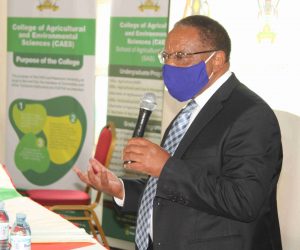 Prof. Ezra Suruma is a distinguished scholar and statesman with a wealth of experience in the field of Finance and Banking, spanning more than 25 years. He is Former Minister of Finance and a Senior Presidential Advisor on Finance and Planning. He serves on the Board of the National Planning Authority, participates in numerous national and international economic policy discussions and initiates proposals for policy change. He is the Head of the Prime Minister's Delivery Unit responsible for the implementation of priority programmes of the Uganda Government.
The Chancellor observed that rural development has always been focusing on sectors such as  agriculture, local government, health, education, trade and industry where ministers have been at the center issuing instructions with hope to impact on the regions, districts, counties, sub counties, parishes , villages, households and citizens  but this was not accomplishing.
Prof. Suruma noted that some attempts have been made to decentralize power and finances to the district, the constituencies and the sub counties but this decentralization policy has not yielded to the expectations.
The professor said ineffective decentralization has resulted in good policies but poor implementation recording 90% attention to policy formulation, 10% attention to implementation resulting to poverty and poor service delivery, good policies at the center, but little action or impact on the villages.
The Chancellor suggested an alternative model-the Parish Model that focuses on household. Every household according to the professor should be enabled to produce a sufficient output for sale resulting to adequate income for the family.
"We presume that out of approximately 9 million households in Uganda at least 6 million are engaged in agriculture production. Therefore, an increase in production and income would directly improve the standard of living of at least 30 million people.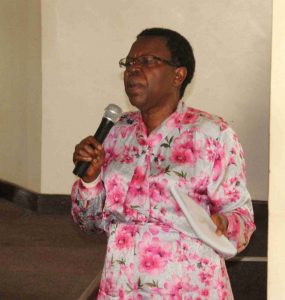 Additional benefits could accrue to the rest of the country though agro processing; cleaning drying, sorting, packaging transporting and trading in those agricultural commodities". The Chancellor remarked.
Prof. Suruma told participants that the basic hypothesis of the parish model is to break household agricultural constraints to increase household commodity production and supply; establish commodity marketing boards to ensure demand for the household products and to manage price volatility and; balance the scale of production and price levels so as to achieve and sustain the middle income target for every household.
The Chancellor said the Parish model was identified in the NDPIII as a vehicle through which household incomes and the quality of life of Ugandans will be improved.
The parish area he said, is the optimum size for government t to reach every household and ultimately every individual that reduces the gap between government and the people.
"The plan identifies the need to bring services closer to the people through strengthening the parish as an administrative and operational hub for all government services at local level.
It is also anticipated that the model will result into increased coordination, improved monitoring and reporting and more effective production". Prof. Suruma stated.
For the effective functioning of the Parish model, Prof. Suruma expressed the need to redefine the meaning of the infrastructure which he said refers to all those institutions and services which are necessary preconditions for maximizing the growth, development and welfare of the community, seen as the minimum duty of government.
The infrastructure, which  Prof. Suruma compared to the parts of a living organism which enable it to function normally and optimally, enable  parish citizens to participate maximally in their own modernization and economic wellbeing .
Highlighting the long-term infrastructure package for the Parish model, the professor said the aim of government at every parish should be to develop standardized minimum infrastructure and full employment. This infrastructure he asserted  should expand both employment and production in every  parish in the sectors of security(intelligence and defense infrastructure), Justice, Law and order (police and magistrates), Education (both pre-primary and primary schools) and extension services by crop and the Health care (Health center II and private clinics).
Other sectors that must be seen as infrastructure are Roads (District, Urban and Community roads), Food storage (Fresh and dry), Food processing, power (hydro, solar and fuels), ICT data collection, water for domestic and production and Financial services (saving, credit, transfers etc).
To improve agricultural productivity, Prof. Suruma said government proposes improving agricultural productivity through fertilizer utilization, irrigation, research, innovation and extension services, ensuring access to financial services and agricultural credit to buy inputs and improving the quality of products through proper harvesting, sorting, drying and packaging.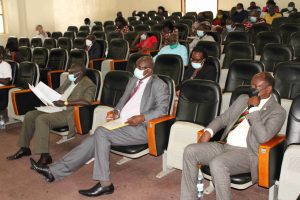 Justifying why productivity matters, Prof. Suruma told participants that the small acreage of subsistence farmers demands high productivity. High productivity according to Prof. Suruma is very highly correlated with fertilizer utilization. He added that productivity must increase in order for the farmer to have a surplus for sale and there is no point in talking about the market if the farmer has no product to sell.
Using the World Bank statistics of 2016, Prof. Suruma reported that in Africa, Uganda is  ranked No. 10 with the lowest fertilizer  utilization  of 1.91kg only per hectare.
"There are other factors that affect productivity such as weather, water for production, quality of seeds and agriculture extension. However, we wish to propose that increased use of fertilizers throughout Uganda may be the fastest way to raise subsistence income to middle income now", Suruma advocated.
Using the Coffee Expansion Program as a good example of Rural Commodity Management and Equilibrium Prof. Suruma said the historical coffee output levels from 1960 to 2010 was 3 million bags per year and under  President Museveni's October 2014 Coffee Expansion Directive, the Lab Methodology was adopted bringing all stakeholders in the design of the coffee 2020 roadmap. They included coffee farmers, government, nursery operators, coffee processors, researchers, soil scientists, cooperatives, transporters, financiers, consultants and donors.
He reported that  government instituted nine key initiatives to catalyze the transformation of the coffee sector these  included Branding Uganda coffee to drive demand and improve value by up to 15%; Built structured demand through country to country deals especially with China and Support to local coffee businesses for value addition in primary processing and soluble coffee.
To support production, Prof. Suruma said government strengthened farmer organizations and producer-cooperatives to enhance commercialization for 9,000,000 farmers by, 2020, supported joint ventures between middle class owners and underutilized production land and investors and also provides and promotes concessions for coffee production on large underutilized tracts of land.
Government also thought of key enablers and these included improving access to quality inputs by reducing counterfeit (fertilizer, pesticides, herbicides) from current 40-60%, developed coffee  finance programme with Central Bank and Treasury to provide loans of up to 900million USD by 2020 and improved quality of planting materials (seeds and seedlings) through strengthened research and multiplication of improved varieties,
In his paper, Prof. Suruma puts the cost of operationalizing one parish according at UGX 202 million. (This includes a one off cost of UGX 182 million over  five years to cater for  transport , one motorcycle per parish, ICT equipment, SACCO capital, post-harvest handling infrastructure and administrative offices); An additional wage of UGX 10.34 million per year and recruitment costs of UGX 10 million per year.
In view of the high cost of financing the Parish model, Prof. Suruma said, it is recommended that a phased approach (5years) be adopted at an annual cost of UGX 540.6 billion. Priority should be given to first strengthening human resources capacity and functionality by filling all vacant positions, recruiting Assistant Community Development Officers, purchase of transport equipment and development of community procurement  guidelines for parish infrastructure and supplies.
Other operationalization costs   over the five year  include ICT equipment (UGX 120.35), Financial services( UGX 150.44), Post-harvest handling infrastructure (UGX 895.40), Administrative Block (50sq meters-UGX 451.31) and Functionality support (UGX 501.45).
Although the Parish model comes with disadvantages of excessive reliance on government, uncertain organizational mechanism and uncertain financing, Prof. Suruma advocated for the adoption of the model on grounds that it has benefits in terms of  simplicity, tangibility in implementation and accessing citizens, increased accountability and equilibrium .
The way forward he said is to seek financing from the Ministry of Finance and development partners, conduct commodity studies and LABS, set up commodity boards, starting with one commodity at a time and starting with a few parishes with quick win commodities.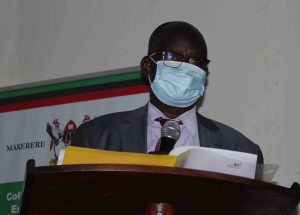 Launching the monthly policy seminar series, the Deputy Chairperson NPA Prof. Sam Obwoya said the Authority was delighted to be part of this engagement as it resonates with the country's development priorities as elaborated in the vision 2040 and the National Development Plans that operationalize it.
Prof. Obwoya  said the subject of rural development has been at the heart of development planning for the government of Uganda noting that for the past three decades, the government initiated numerous strategies and plans to stimulate rural economies and improve the wellbeing  including the Poverty Eradication Plan (PEAP) and the Plan for Modernisation of Agriculture (PMA).
"The focus on vision 2040 and the subsequent NDPs is on strengthening the fundamentals to harness the opportunities including human capital , physical infrastructure in transport, energy, communication, science , technology engineering and innovation. Strengthening these fundamentals will enable the government to harness the opportunities in the priority sections of agriculture, tourism, minerals, oil and gas", Prof. Obwoya stated.
Prof. Obwoya however noted that, despite the many initiatives rolled out by government, rural development  challenges have persistently included poverty, a large proportion of households still in subsistence agriculture, low productivity of labor and land, school dropouts, illiteracy, low value addition, poor infrastructure, widening income inequality between regions among others.
Additionally, Prof. Obwoya said, the regional poverty map indicated varying poverty levels across the country with central Kigezi and Lango regions being under  the national poverty line average, Acholi, West Nile and Karamoja regions having higher poverty levels albeit it is declining while Bukedi, Busoga, Teso and Bunyoro regions were registering  increasing poverty levels.
Prof. Obwoya reported that the  income poverty variations coupled with underdevelopment, regional value chains, inadequate economic and social infrastructure and weak public sector management at regional level account for the prevalent regional imbalances in the country.
"For these, the NDP III rural development approach is conceptualized around addressing these regional imbalances that continue to hold back some socio-economic transformation of rural areas. The NDP III was approved and its implementation started July 2020 to guide investments of government, private sector, development partners and civil society.
Over the next five years to 2024/25 NDP III requires that all investments be dedicated to increasing household incomes and improving the quality of life of Ugandans meaning that by 2024/25 National poverty rates should have reduced from 21.4% to 18.5%; Youth  unemployment will reduce due to increase in jobs create  at 512,000 annually; household subsistence  dependence on subsistence  agriculture reduced from 69% to 40% and industry growth rate of 8.1% from 6.1%.", Prof. Obwoya submitted.
Prof. Obwoya explained that NDP III is based on a program approach and there are 18 programs in total. The adoption of programmatic approach aims to improve coordination in planning, budgeting, implementation and reporting which subsequently would lead to enhanced service delivery.
All the 18 programmers according to Prof. Obwoya are linked to one another and contribute to rural development but three of them namely Agro industrialization, Regional development and Private Sector development address the rural development challenges.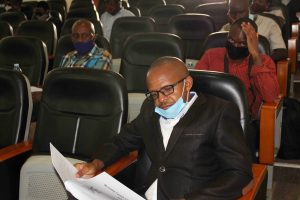 For example he said, the Agro-industrialization programme aspires to leverage Uganda's agricultural potential along the entire value chain and this is expected to uplift 70% of Ugandan households who are still in a subsistence economy to be achieved by increasing commercialization and competitiveness of agricultural production and agro processing through development of selected agro based industries that target specific commodity value chain following area –based commodity clusters approach.
The regional development program on the other hand will also address regional imbalance by paying special focus to those regions that are lagging behind with efforts towards stimulating the sub regions growth potential in agribusiness, tourism, minerals and manufacturing; Closing regional infrastructure gaps and strengthening regional based value chains for local economic development.
He further he said, government affirmative actions will be tailored to support regions lagging behind the national average poverty rates.
"I wish to reiterate that the NDP is conceptualized around increasing household incomes and improving the quality of life for all Ugandans as elaborated in 18 programmes.
With about 80% of Uganda's population living in rural areas, it implies that achieving the NDP III goal is hinged on fostering rural development-aware that the government has designed specific programmes to drive  the transformation of rural areas," Said Prof. Obwoya..
He however said, achieving this goal over the next five years requires concerted effort from all, the academia, development partners, civil society organizational, private sector and the government which has already adopted the plan.
Report compiled by;
Jane Anyango,
Principal Communication Officer, CAES.