March 5, 2020
Posted by:

Albert Muhumuza

Category:

news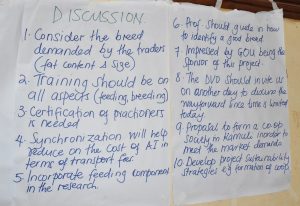 Stakeholders in the piggery sector in Kamuli District have endorsed the proposal by Makerere University research team to integrate Artificial Insemination Technology and Elite genetics to transform the Pig Value Chain in the district. The farmers also agreed to be trained and have exchange visits.
The farmers were ready to meet on Friday 6th March 2020 to continue deliberating on the issue, identify farmers to benefit under this project and agree on the type of breeds to be promoted for the project implementation.
The consensus was reached during the farmers consultative meeting organized by a multidisciplinary research team from Makerere University on 3rd February 2020 at Kamuli district headquarters where over twenty (20) pig farmers including Pig AI Technicians, Extension staff and district officials attended.
Makerere University received a special funding from the Government of the Republic of Uganda (the Research and Innovation Fund (RIF) to complement available research funding to address unfunded priorities critical to accelerating development across different sectors of the economy in Uganda.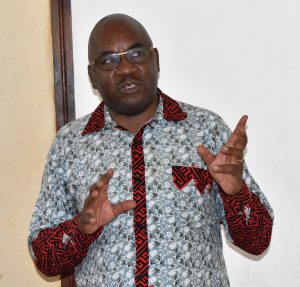 The project titled, "Integrating Assisted Reproductive Technologies and Elite Pig Genetics to transform the Pig Value Chain in Uganda", is being led by Assoc. Prof. Donald Rugira Kugonza from the Department of Agricultural Production, School of Agricultural Sciences, College of Agricultural and Environmental Sciences (CAES).
Other team members are Dr. Anena Catherine Pauline from the College of Humanities and Social Sciences (CHUSS), Dr. Gideon Nadiope Director, Iowa State University–Uganda Program (ISU-UP) and Lydia Magala from the Ministry of Agriculture, Animal Industry and Fisheries (MAAIF).
The Principal Investigator Dr. Donald Kugonza said the university had worked with Kamuli district before and would like to upscale Artificial Insemination in pigs, promote women farmers and, to see youth coming to this game.
"We received shs. 180, 490, 000 to be spent by June 2020. This project funded by government is going to provide 1000 dozes of semen meaning at least 1000 pigs will become pregnant provided from Makerere AI station and then 200 of these dozes will be given to farmers free of charge. Transport and service fees for the extension officer will also be paid. There will be trainings facilitated and paid for by the project plus exchange visits.
We are working in Luwero Kamuli and Wakiso districts and our intent is to work with farmers to boost the good breeds of pigs and better lines which have been there. We have new breeds Cambrough, Large White and Duroc.", The PI said.
Dr. Kugonza said, the university team was well received, with committed staff to do the training and sensitization to promote AI technology.
"The biggest outcome from the meeting was the community buy in. All our ideas that we proposed have been bought. It was overwhelming that all members voted for the AI technology even when there were other ideas like using community boers, eventually the group said, we want AI because it has delivered some results, we want more of it, we want more farmers to be engaged and getting better organized". Dr. Kugonza explained
The PI said, there are things that are still at experimental stage like the semen extenders, getting materials for inducing Oestrus in females and trying out a model for semen distribution.
Dr. Kugonza expressed gratitude to the Government of Uganda for funding research saying that, it is unprecedented that the project can start and end with funding from government. 
"Pigs have not been a priority of government. When you look at the priority list from the MAAIF, pigs have not been a priority as a commodity either because of religious or cultural beliefs but at least now, the conversation has changed," He appreciated.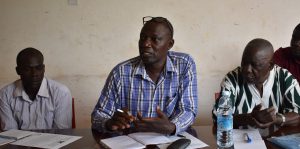 Kamuli District Production Officer in charge of coordinating efforts of crops, animals and fisheries, Mr.  Richard Musenero described the visit by Makerere University team as a blessing to support the pig value chain in the district alongside other districts.
"Pig production in Kamuli is still on a low scale although we have some large scale farmers, majority are still on small scale keeping of 1-5 pigs per household. They are also producing using rudimentary technologies. There is a challenge of inbreeding in Kamuli resulting in poor quality piglets with low growth rates and low productivity.
Coupled with other efforts like community breeding, this intervention from Makerere University which is bringing in the technology of Artificial Insemination, we hope the genes, production and productivity will improve the piggery sector in Kamuli and other districts". Mr. Musenero noted.
Mr. Musenero said, currently, pig farmers in Kamuli were operating individually but through the university intervention, they were looking forward to registering all pig farmers in the district to enable them pool resources, market together and negotiate for pricing to avoid cheating farmers and acquire inputs jointly.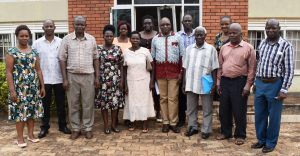 "Marketing of pork is still done adhoc. Farmers are selling individually. They  are offered low prices in the guise of  poor quality pork in terms of high  fat content and our farmers are not able to defend themselves", The Production officer noted.
He said, the district officials were to go out to create awareness to the rest of the farmers who did not attend the meeting, do sub county stakeholders meeting, register all farmers, organize and encourage them to take up the AI Technology and improve on the genes.
The District Veterinary Officer Dr. Kunya James said compared to AI, the community model has more disadvantages in terms of economics involving costs and disease control especially the African Swine Fever.
Dr. Kunya hailed farmers who have been using AI in pigs and technicians who were trained sometime back for attending the meeting.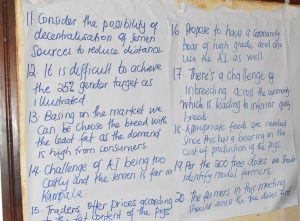 "We had so many resolutions but among the salient ones, we are to form associations to reduce the costs of insemination and transport through synchronization i.e to service many pigs in a day.  We found that it is only through AI that we can change the genetics of pigs because the breed of pigs determine a lot in the pig industry meeting the pig weight, quality of pork and pig litter.
He said farmers were expecting to get trainings from Makerere University in all aspects of the pig value chain including feeding, breed selection and heat detection.
He said to unify and strengthen pig farmers, the district has embarked on building centralized slaughter places in the two sub counties of Namwenda and Bulopa where pork can be inspected to improve the quality and attract the market and good prices. The other slaughter house according to the Veterinary officer has been established in the Municipality.
"We are so grateful, that Makerere has encouraged us and we hope we shall work with the university for sustainability.
The National Director Iowa State University–Uganda Program and member of project team Dr. Gideon Nadiope said, the pig AI in Kamuli started by training of   inseminators by Makerere university and other partners and has led to an increase in number of farmers.
"It was not easy to start because semen comes from Makerere University Agricultural Research Institute near Kampala and the shelf life is short, so it has to be transported to Kamuli. To be able to get good conception rates, farmers had to cooperate with inseminators in reporting on time so that the semen can be procured and pigs inseminated on time", Dr. Nadiope stated.
He reported that although the number of pigs is not so big in the district, it has kept on growing and from the days meeting, there was evidence of big enthusiasm for the AI technology.
He said farmers were experiencing problems with heat detection, feeding of pigs with infected with aflatoxins which ultimately affect the intake of the feeds, the entire physiology and growth rate of the animals. He advised farmers to buy maize brand in powdered not caked form but still dry it to avoid proliferation of aflatoxins before feeding the animals.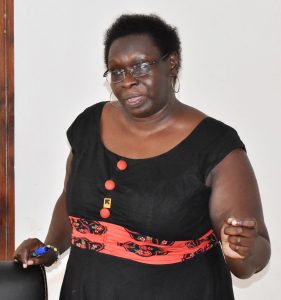 The Gender specialist from Makerere University College of Social Sciences, Dr. Anena Catherine Pauline from the School of Women and Gender Studies implored the district leaders to consider the gender aspect in selection of project beneficiaries.
"For us in this project, we feel gender is a very important aspect that we need to consider seriously not just ensuring that male, female and youth are presented and their interests catered for, but also to understand the challenges they are facing."
Dr. Anena categorized farmers into adult and young females, adult and young males, female and male youth that are engaged in farming.
She emphasized the need to understand the unique needs of each category of the farmer if any development project is to be successful and sustained saying, their interests say, type of breed may be different.
"But the key question is to ask why? Is it because of their roles. In most cases adult women in homes tend to be overworked because they perform triple roles in society, we have Gender roles, Reproductive, Productive and Community roles." Dr. Anena said.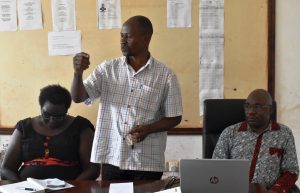 Dr. Anena said understanding roles, cultural and social settings is key while introducing a project in an area as it will provide answers as to whether the project will impact on the people served, whether it adds more work and whether they will accept it and abide by the requirements for a good breed and handle it well.
She implored the district leadership to conduct a general analysis into the roles of different categories of the farmers and also ensure a 25% representation of all categories on the project including People with Disabilities for purposes of inclusive and sustainable development.
An overview about this project is herewith attached
Report Compiled by;
Jane Anyango
Principal Communication Officer, CAES