November 19, 2020
Posted by:

Albert Muhumuza

Category:

news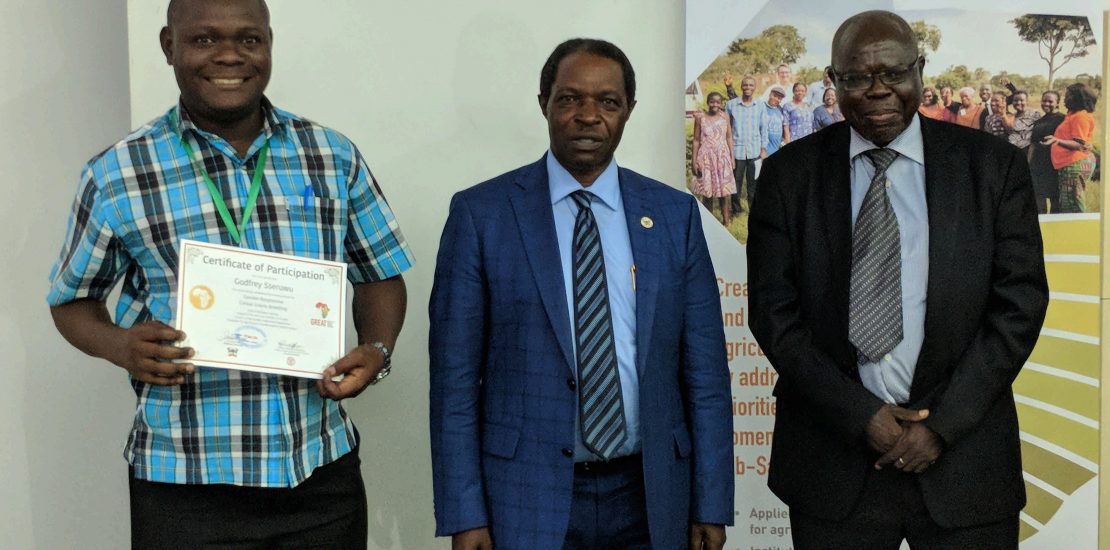 L-R: Dr Godfrey Sseruwu, Breeder at NARO, Mukono Zonal Agricultural Research Institute after receiving the GREAT Gender Course Certificate from Prof. William Bazeyo, Makerere University and Dr. Cyprian Ebong. (Photo: GREAT, 2018)
On November 23rd and 24th 2020, Makerere University's  Gender Responsive Researchers Equipped for Agricultural Transformation (GREAT) will host its first virtual Symposium on Gender Responsive Crop Breeding: Sharing evidence and experience from the field.  Day 1 will be internal to the GREAT Community of Practice, while Day 2 will be open to the public and accessible by Zoom and Facebook Live. The broadcast will begin at the following regional times:
8AM EST (New York), 1PM GMT (London), 2PM WAT (Abuja), 4PM EAT (Kampala) 5:30Pm IST (New Delhi), 8PM WIB (Jakarta)
The event will bring together interdisciplinary research teams of plant breeders, pathologists, socio-economists, anthropologists, food processing and quality experts from more than 10 countries in Anglo and Francophone sub-Saharan Africa to share their work.  The presenters are from a range of institutions including National agricultural research Institutions, Universities, and CG Centres in Uganda, Ghana, Kenya, Cameroon, USA, Benin, Thailand, Malawi, Mali, Nigeria, Madagascar, Burundi, Burkina Faso, and India. The event will summarize the teams' research work on crop improvement aimed at delivering equitable benefits to women, men, boys, and girls.  Since its establishment in 2016, GREAT has trained more than 250 professionals in gender responsive agricultural research methods.
A full program of the event will be available at greatagriculture.org
The presenters will be GREAT Fellows drawn from different cohorts over the last 5 years, as well as GREAT mentors and trainers. The presentations will revolve around gendered participatory varietal selection, gender dynamics in breeding systems, intrahousehold relations influencing seed access among others.  There will also be an expert panel discussing what it takes to be a "gender specialist" in a breeding program.
Key presentations at the Symposium will include;
Dynamics of Farm Work, Household Duties and Labour Engagement for Men and Women in Maize Production in Northern Ghana by Eyram Natson;
Gendered varietal and trait preferences of common bean value chain actors in Uganda: Implications for breeding by Eileen Nchanji;
Gender dynamics in banana seed systems and impacts on banana bunchy top disease recovery in Cameroon, by GREAT Fellows Lillian Nkengla and Bonaventure Omondi; and,
Insights and lessons from gender-responsive RTB food product profiling studies in East and West Africa by Lora Forsthye.
Reflections on Gender Integration at the Feed the Future Innovation Lab by Jessica Marter Kenyon.
GREAT Principal Investigator and co-founder, Professor Margaret Najjingo Mangheni at Makerere University in Kampala, Uganda said:
"We received dozens of fantastic and thoughtful abstracts from our Community of Practice (CoP) across the region.  These people work on crops and food value chains that are integral to improving the livelihoods of women and men, their families, and communities at large. The work that will be showcased in this symposium demonstrates the impact GREAT has had on transforming the way researchers and their institutions approach the question of gender in agricultural research and development.  We are looking forward to seeing more agricultural researchers coming on board with the GREAT vision, that we need to equip researchers to create more inclusive and effective agricultural systems by addressing the priorities of both women and men in sub-Saharan Africa."
GREAT delivers training to agricultural researchers from SSA in the theory and practice of gender-responsive crop improvement research, seeking to increase opportunities for equitable participation and the sharing of benefits from agricultural research and improve the outcomes for smallholder women farmers, entrepreneurs, and farmer organizations across sub-Saharan Africa.
By building and engaging communities of researchers equipped with the skills, knowledge, and support systems to develop and implement gender-responsive projects, GREAT advances gender-responsiveness as the norm and standard for agricultural research and crop improvement.
GREAT is a collaboration between the Department of Global Development at Cornell University in Ithaca, New York and Makerere University in Kampala, Uganda, and is supported by the Bill & Melinda Gates Foundation.
Please follow Twitter updates through @GREATAgResearch   #GREATSymposium2020
By the GREAT Project Team